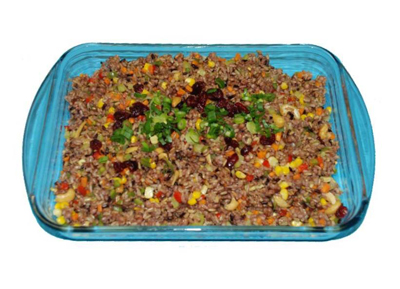 Ingredients
4 cups Yogi House Organic 8 Grain Rice
2 small Organic Carrots
3 stalks Organic Celery
1 small Red Capsicum
1 small Green Capsicum
1 Organic Corn Cob
½ cup Organic UN Cashew Nuts
½ cup Yuan Hao Natural Cranberries
2 stalks Spring Onions (chopped)
3 tbsp Grapeseed Oil
¼ tsp Organic UN Black Pepper Powder
¼ tsp Organic UN White Pepper Powder
¼ tsp Sea Salt

Method:
Cook Organic 8 Grain Rice separately.
Dice Organic Carrots, Celery, Red Capsicum, Green Capsicum and Corn cob into small bite size cubes.
Heat the frying pan with 1 tbsp of Grapeseed Oil.
Stir fry the diced vegetables for 1 minute.
Remove from frying pan.
Add in 2 tbsp of Grapeseed Oil into the pan.
Put in the Organic 8 Grain Rice.
Fry for 2 minutes before adding in the cooked vegetables and fry for another 1 minute.
Sprinkle in Organic Black Pepper & Organic White Pepper Powder and Sea Salt.
Toss in Organic Cashew Nuts and dish is ready to serve on casserole.
Garnish dish with Yuan Hao Natural Cranberries and chopped Spring Onions.
Download the menu in PDF format...

All the ingredients are available at:
Nutrimax Wellness Store
Golden Landmark
390 Victoria St #02-30 Singapore 188061
Tel: 62922991, 83338375 Hp: 83338375
http://www.nutrimaxorganic.com
Click here for direction