The Characteristics of Bamboo Charcoal
Up to 90% of far infrared emission
Far infrared can vibrate water molecules, helping them penetrate cell membranes and increasing oxygen in the blood. It can activate cells, boost blood circulation, and improve the body's internal system.

Good warmth-preservation effect
The bamboo charcoal nano-powder in the yarn can increase temperature by at least 10℃ (ordinary fabrics can only increase by 1~3℃).

Sweat absorption, germproof, and deodorant
The structure of bamboo charcoal is very dense, with abundant pores and minerals. Therefore, it can well absorb and decompose organic pollutants or hazardous chemicals in the air, such as sulfides, nitrides, methanol, benzene, phenol, and chloroform.

Stable far infrared emission and free of harmful radiation
Differing from the production of other master batches on the market, nano-powder is added into our bamboo charcoal yarn during compounding, resulting in good dispersion. Bamboo charcoal yarn is a natural material free of harmful radiation found in general mineral.

Washable and easy to process
The processing of bamboo charcoal yarn is similar to that of polyester. The material is washable and its function is not affected by water washing.
The Production Process
The Warmth Retaining Effect of Bamboo Charcoal Fibre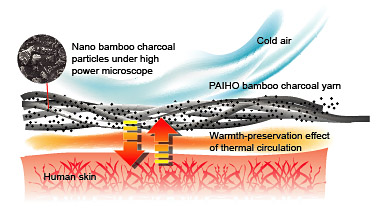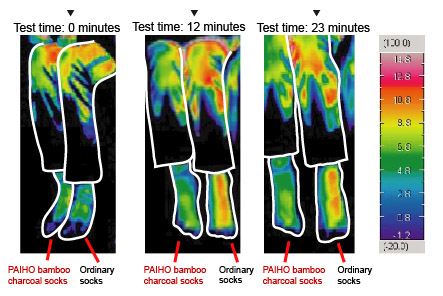 Test time:
23 minutes
Test temperature:
Temperature dropped from 0°C to -10°C in 23 minutes.
Note: Higher temperature means that the socks' heat loss rate is higher and warmth-retaining property is poor. Test results found that the ordinary socks were emitting (body) heat all the time but that Lacoya's bamboo charcoal socks could effectively retain heat even when the temperature dropped.
The Amazing Health-Giving Fibres of Bamboo Charcoal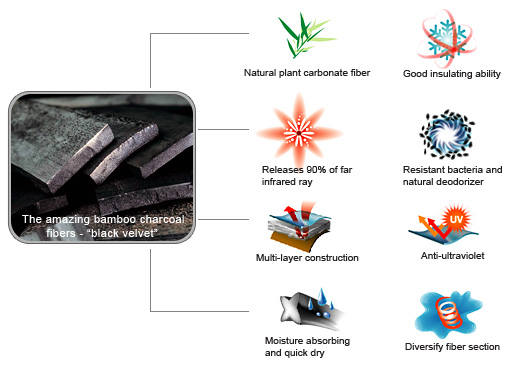 The Lacoya's Bamboo Charcoal Products have the following characteristics:
Natural plant carbonate fibre
Good insulating ability
Releases 90% of far infrared ray
Anti-bacteria and is a natural deodorizer
Anti-ultraviolet
Multi-layer construction
Moisture absorbing and quick drying
Diversity in fibre section
The Lacoya Bamboo Charcoal Products are environmentally friendly...

---
Ask a question:

Nutrimax Wellness Store, Singapore
390 Victoria St #02-30 Golden Landmark (Opp. Raffles Hospital) Singapore 188061 Tel: 6292 2991, 83338375 (Mobile)