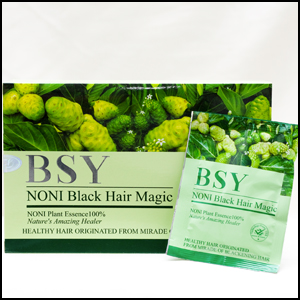 S$8.00 per sachet; S$98.00 per box of 20 sachets
Caution: it will blacken your hair from root to end without hair dye! One sachet can last for 1 ~ 3 applications, depend on the volume of your hair...

Turn your hair black instantly by just shampooing them with this black hair magic.
The Noni Black Hair Magic is formulated with various herbal essences such as noni, wild ginseng, wild ganoderma lucidum etc.
It took the hair nutrition and health experts two years to develop, and contain natural ingredients that can rapidly turn your hair black naturally and healthily.

Besides blacken the hair, it also has anti-dandruff and nourishing properties that bring nutrients to the roots of the hair and effectively prevent hair lose.
Safe and healthy, without harmful side effects of hair dye chemical and won't damage the hair and your scalp.

Ingredients and effectiveness:
Herbal essence for hair nourishment: Noni, Polygonum multiflorum Thunb (何首乌) and wild ginseng, wild ganoderma lucidum etc. Its blackening effect is six times of normal blackening shampoo.
Convenience: instant black after light usage, just need seven minutes to blacken your hair, whenever and wherever you are. It blackens your hair from the root to end.
Combination of hair blackening, hair nourishment and hair conditioner in one convenient application. Say goodbye to dull white hair!

Application:
Wear a pair of gloves (if not this shampoo will blacken your nail without harmful effect.)
Wet your hair and dry it with a towel.
Pour the Noni Black Hair Magic on your hands and mix it well.
Place the mixture onto the hair and keep massaging for 7 ~ 10 minutes. For best result, cover the hair with shower cap for additional 10 minutes. Note: Avoid letting the shampoo stay on your forehead for too long, as it will turn black.
Rinse your hair thoroughly

Note:
This product has low allergic rate, however, it might not be suitable for everyone. Therefore, please do a simple allergy test, by massaging a bit of Noni Black Hair Magic on the root of the ear, if within 24 hours, there is no redness, then proceed to use it.
A Few examples of the effectiveness of using this product: