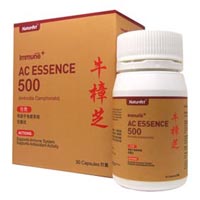 S$120.00 for 30 caps
Product of Singapore

Naturext™ Immune+ AC Essence is made from powdered Antrodia Camphorate Mycelia, a rare fungus found naturally only in Taiwan.
Compared to the well known Ganoderma Lucidium (Lingzhi) where less than 50 types of Triterpenes are found, AC contains more than 200 types of Triterpenes. In addition, the concentration of Triterpenes found in AC is 10-15 times higher than Ganoderma Lucidium.
Naturext™ Immune+ AC Essence also uses a patented solid state fermentation process to cultivate Antrodia Camphorata to ensure highest quality and consistency in its manufacturing process.
Product Information:
Powder of cultured Antrodia Camphorata mycelia.
Active Constituents:

PD/PK studies have shown that Antroquinonol® bioactivity begins immediately upon being absorbed through the mucosa, allowing for convenient oral administration. Furthermore, studies have shown that the drug does not remain in the body after a period of 13-15 hours.