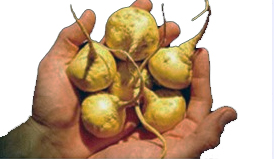 We're sorry the Maca powder is currently out of stock, we're in the process of registering a new organic maca powder, once the formality is done, will be made available to you. For more information, please call 62922991
What is Maca
Maca is a root vegetable cultivated high in the Andean Mountains. Its use as a food and a medicine dates back 10,000 years.This plant has been used traditionally:
To increase vitality and energy
Supports and nourishes all body systems in men and women.
Maca Root contains significant amounts of amino acids, complex carbohydrates, Vitamins B1, B2, C, E and minerals including calcium, phosphorous, zinc, magnesium and iron.
Maca is a whole food, allowing males and females of all ages to benefit from taking it regularly.

Why Choose "Organically Certified Maca Powder"?
The product is CERTIFIED organic*, meaning that you are not ingesting man-made chemicals, including but not limiting to artificial fertilizers, insecticides and herbicides. The processing facility is USDA approved certified organic.

The organic product is also NON IRRADIATED, as this completely contravenes the rules of organic products. Irradiation is a common packaging procedure that denatures product quality and potency by 30-60% -- resulting in an 'aseptic' product that can languish on the shelves for up to 4 years! Our 'best before' date is maximum 2 years because fresh is best.

The product is fresh milled to order then climate controlled shipped from Peru. Our temperature-controlled processing prevents oxidization and rancidity, especially of heat sensitive vitamins, essential fatty acids, and proteins (amino acids).
*The certified organic convention forbids the following world-wide:
1. petrochemical fertilizers
2. chemical pesticides/herbicides
3. genetic engineering
4. IRRADIATION
* As per US federal guidelines, we need to inform you that these statements have not been evaluated by the Food and Drug Administration. This product is not intended to diagnose, treat, cure or prevent any disease.
Overseas order will be sent via post or courier service, please ask for quote.
Local Delivery Service Available!
For orders above SG$180, delivery will be free of charge.