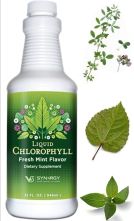 S$37.70
Chlorophyll is the green pigment in plants that harnesses the sun's energy in photosynthesis. Chlorophyll performs metabolic functions in plants such as respiration and growth.
Interestingly, the chlorophyll molecule is chemically similar to human blood, except that its central atom is magnesium, whereas that of human blood is iron.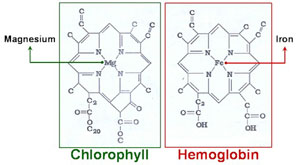 Liquid Chlorophyll may help improve immune response, deodorize the body and help cleanse the blood of impurities.
Benefits
* Helps promote the natural blood-cleansing functions of the body.
* Promotes strong immune response. 
* Deodorizes the body, including the bowel.
Recommended Uses
Take one teaspoon (5 ml) in one glass (240ml) of water twice daily.

Refrigerate After Opening.
Ingredients Chlorophyllins (sodium copper chlorophyllin-derived from alfalfa) Methylparaben, purified water, spearmint oil (Mentha spicata and cardiaca), and propylparaben.

Size: 32 oz
This product was added to our catalog on Wednesday 3 June, 2010.