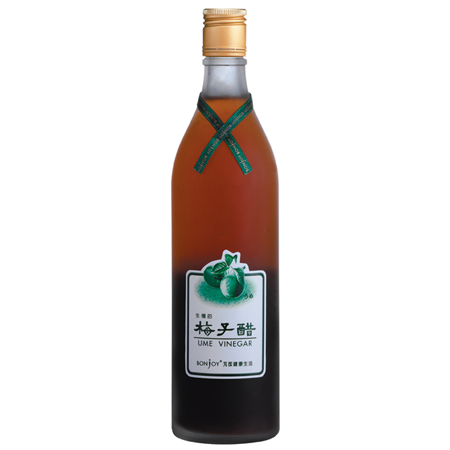 Bonjoy Ume Plum Vinegar S$43.00
No artifical colorings, flavorings, preservatives and synthetic fragrance
Ingredients: Natural green ume plum, sugar cane concentrate, acetic acid bacteria. Natural fermentation with actual ume plum meat and fibre.
Taste: Sweet and sour, just like the first love. It promotes salivary flow. It is slobbery good!

Characteristics:
Improve digestion and intestinal flora
Maintain the enzymatic balance and nutrient absorption
High in organic acids that help the citric acid cycle (Kreb cycle) that is the energy production cycle

Promotes good health and longevity 
The goodness of natural fermented ume plum vinegar 
Promotes youthful complexion
Regulates the physiological function
Regulates the pH balance
Volume:600ml