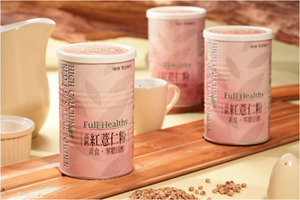 639 grams per can.

Job's Tears (Coix lacryma-jobi), is a tall grain-bearing tropical plant native to East Asia and peninsular Malaysia. In its native environment it is grown in higher areas where rice and corn do not grow well. Unlike the common thoroughly de-shelled Job's Tears, the Red Job's Tears retain the reddish bran that is full of natural wholesome nutrients: polyunsaturated fats (linoleic acid), vitamins B1, B2 and calcium, iron and phosphor. It is rich in water soluble dietary fibre. Traditionally, Job's Tears are common ingredient in cuisine and also a treasured grain in TCM with an ability to strengthen digestive system.
The Full Healthy Red Job's Tears Beverage Powder uses premium grade Red Job's Tears as the major ingredient. During the production process, no high temperature, including toasting and roasting are employed. The product is further enriched with Calcium Lactate Gluconate (a high potency form of calcium) to ensure maximum availability of bioactive calcium for the user. This product has no preservatives.

Unlike the well polished the Job's Tears in the market, the Red Job's Tears used in this formulation retained the bran that is rich in Job's Tears fats and much richer in vitamins, minerals and natural dietary fibre. Suitable for all ages.
Ingredients: Red Job's Tears, Calcium Lactate Gluconate
Net Weight: 450g
Infusion: blend one or more spoonful of powder with lukewarm or hot water. It mixes well with milk, oat, soy milk, tea with milk or other wholesome beverages.
Regular consumption would nourish and strengthen the body system, improve metabolism, improve complexion, increase energy level and promote good health.

高钙红薏仁粉
薏仁属禾本科之草本植物,又名薏苡仁,为穀类的一种。主要成份为蛋白质、油脂(亚麻油酸)、维生素B1、B2及钙、铁、磷等矿物质和丰富水溶性膳食纤维。
薏仁不仅在中国传统饮食,被视为含有高度营养价值的穀物,在中药里也被用作滋养强壮剂,因故被誉为禾本科植物之王。

特选上等红薏仁,经特殊技术处理,精心研磨,製成天然红薏仁粉,在加工过程中,保存红薏仁天然之美味与营养成份,以低温製造,不经培炒,香纯好喝又爽口,特别再添加乳酸钙及葡萄糖酸钙,增加钙质的含量,让您在享用红薏仁粉的美味同时也补充足够的钙质,并且保證绝不添加防腐剂。
一般在市面上所贩售的薏仁,多是已去除麸皮的白薏仁,少部份则是没有去麸皮的糙薏仁,就是俗称的〝红薏仁〞,红薏仁比一般精白的薏仁含更多的〝薏仁酯〞及更丰富的维生素群、矿物质及天然植物纤维,冷热饮皆可,适合各年龄层饮用。
品名:高钙红薏仁粉
成份:红薏仁、乳酸钙、葡萄糖酸钙。
净重:450公克
冲泡方法:依个人口味喜好调适浓淡,直接以温或热开水冲泡搅拌均匀即可。并可选择与牛奶、麦片、豆浆粉、奶茶或搭配丰健各系列产品混合冲泡,冷热皆宜,风味绝佳。经常饮用可滋补强身、促进新陈代谢、养颜美容、增加体力、让人延年益寿,更是您一天营养的补充佳品。