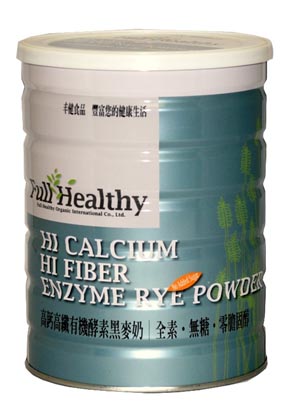 S$29.00 (850g)
Product of Taiwan
Features: Hi Calcium (Lactate Calcium, Gluconate Calcium), Hi Fiber (Psyllium),
Comprehensive Enzyme (Biozyme A2). No sugar added, No cholesterol.
Suitable for vegetarian.

Rye has been widely cultivated in Central and Eastern Europe since the Middle Ages, and is the main bread cereal in most areas east of the French-German border and north of Hungary. Rye is a very adaptive crop that is able to grow even during the winter period and can withstand poor soil conditions. It is the staple food for the German.
Rye is rich in proteins and minerals, such as iron, potassium and magnesium. It is also high in Vitamin B Complex. The nutritional values of Rye have been well known in Europe since ancient time and the daily consumption of Rye is seen as way to supplement the diet of the locals.
Rye used in the Full Healthy Product Series is imported from Europe and is certified organic by an international renowned certification agency. The variety is from the Finland farms in the glacial lake plain that extends beyond the Arctic Circle.
The Arctic soil is fertile and pristine without contamination and is able to provide the Rye with all the nutrients required. The ideal conditions are further enriched by snow slush water and sunlight.
Product Name: High Calcium, High Fiber Enzyme Rye Powder
Ingredients:
* Rye, Lactate Calcium, Gluconate Calcium, Psyllium, Comprehensive Enzyme (Biozyme A2)
* certified organic
Net Weight: 850g
Best Before: See Base of Tin (Year/Month/Day)
Date of Expiry: 2 years
Place of origin: Taiwan
Please keep in a cool and dry place or in the fridge. Infusion: blend one or more spoonful of powder with lukewarm or hot water. It mixes well with milk, oat, soy milk, tea with milk or other wholesome beverages.
黑麦简介:
黑麦又称裸麦原产於中亚,主要产於欧洲,种植於乌拉山和北海以北区域,耐寒冻,更耐风沙,可在不良土地或沙地上生长,是德国最重要的食物。

黑麦本身的蛋白质与矿物质含量充沛,并含丰富维他命B群、铁、钾、镁等物质,在欧洲早就是广为人知的健康食品,同时也被视为日常天然的补充品。
丰健食品严选欧洲进口之有机认證黑麦,并通过最具代表性与权威性之国际有机认證规範。
来自北欧芬兰北极圈的冰蚀湖平原,其肥沃、无污染的土壤提供黑麦生长所需的各种有机质,加上丰沛的雪水与充足的日照,为黑麦的生长注入大地的充沛能量。 品名:高钙高纤有机酵素黑麦奶
成份:*黑麦、乳酸钙、葡萄糖酸钙、洋车前子、综合酵素
*代表原料通过有机认證
净重:850公克
有效日期:标示於包装罐底
保存期限:二年
原产地:台湾
保存方法:请置於阴凉乾燥处或放入冰箱保存。
冲泡方法:依个人口味调整浓淡,直接以温或热开水冲泡搅拌均匀即可。
并可选择与牛奶、麦片、豆浆粉、奶茶或搭配丰健各系列产品混合冲泡,冷热皆宜、风味绝佳。