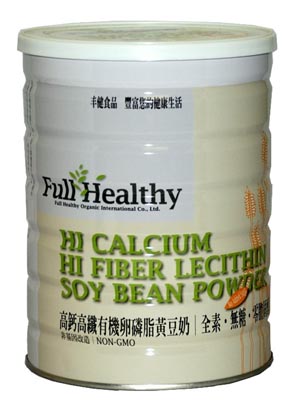 S$29.00 (850g)
Product of Taiwan
Features:Hi Calcium (Lactate Calcium, Gluconate Calcium), Hi Fiber (Psyllium),
Non GMO. No sugar added, no cholesterol, suitable for vegetarian.

Soybeans are rich in proteins, unsaturated fatty acids, vitamins, minerals, lecithin, isoflavones, trace elements and dietary fiber. Traditionally, the soybean is considered to be the ideal source of nutrients for young and old. It is thought to be the most nutritious food on earth.
Soybeans are considered by many to be a source of complete protein. A complete protein is one that contains significant amounts of all the essential amino acids that must be provided to the human body because the body can't synthesize them. Soybeans are cholesterol-free.
The Full Healthy Soybean Powder uses the imported organic whole soybeans to mill into fine soybean powder. It is free from purine and has high amount of water soluble dietary fiber. The organic soybeans used are of organic certified quality that is free from artificial chemicals, pesticides and guaranteed to be non-GMO.
The soybeans are certified organic by an internationally renowned agency.
Product Name: Hi Calcium Hi Fiber Lecithin Soybean Powder
Ingredients:
* Organic soybeans, lecithin (non GMO), Lactate Calcium, Gluconate Calcium, Psyllium

Net Weight: 850g
Best Before: See Base of Tin (Year/Month/Day)
Date of Expiry: 2 years
Place of origin: Taiwan
Please keep in a cool and dry place or in the fridge.
Infusion: blend one or more spoonful of the powder with lukewarm or hot water. It mixes well with milk, oat, soy milk, tea with milk or other wholesome beverages.
黄豆简介:
黄豆主要成份为蛋白质、不饱和脂肪酸、维生素、矿物质、大豆卵磷脂、大豆异黄酮(Isoflavones)、微量元素及大豆纤维,是男女老幼补充营养之最佳来源,是最营养的天然食品。黄豆富含植物性蛋白质,含有丰富的必需胺基酸,属完全蛋白质,蛋白质中的胺基酸组成,比其他植物蛋白质更接近人体所需,无胆固醇且容易消化。丰健食品严选进口之有机黄豆,以完整黄豆加工成黄豆粉,去普林并含有较高的可溶性膳食纤维。 有机黄豆是以自然农耕法栽种,在无化肥汙染、无农药残留及保證绝无基因改造的严格条件下出产品质最佳的黄豆,所有黄豆的生产都经由国际认證组织的有机认證。 品名:高钙高纤有机卵磷脂黄豆奶
成份:
*黄豆、卵磷脂(非基因改造)、乳酸钙、葡萄糖酸钙、洋车前子。
*代表原料通过有机认證
净重:850公克
有效日期:标示於包装罐底
保存期限:二年
原产地:台湾
保存方法:请置於阴凉乾燥处或放入冰箱保存。
冲泡方法:依个人口味调整浓淡,直接以温或热开水冲泡搅拌均匀即可。
并可选择与牛奶、麦片、豆浆粉、奶茶或搭配丰健各系列产品混合冲泡,冷热皆宜、风味绝佳。