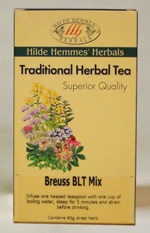 S$24.00
Product of Australia
Rudolf Breuss was a most extraordinary man who devoted his long life to helping people. As a self proclaimed healer, his controversial views were frowned upon by the medical establishment, however, today there are thousands of people are grateful to him.
His book has now sold more than one million copies world-wide and he has formed the reputation of being a modern-day natural healer.
Hilde Hemmes has blended and pre-packed the two mixtures - Breuss BLT Mix and the therapeutic product Breuss Kidney Tea Mix for the Breuss Cancer Cure protocol.
Medicinal Use
Take as recommended by Rudolf Breuss.
Active Ingredients
This traditional mixture contains:
* Plantain
* Ground ivy
* Iceland moss
* Cowslip
* Camomile
Features / Benefits
* A non-medicinal mixture of pleasant-tasting herbs.
* Contains no artificial colours, preservatives, caffeine, gluten and lactose.
Volume: 60g
Editor's note: This is the tea mix to be used in conjuction with the Breuss Cancer Cure protocol.