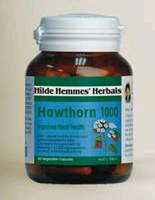 S$31.50


Description
In ancient times, hawthorn was used in traditional Irish folk remedies and was favoured by Romany folk healers as a heart tonic. Nicholas Culpeper (1616-1654) is one of many well-known herbalists who praised its effectiveness for the heart.
Today, hawthorn has a reputation for being one of the best herbal medicines to help optimise cardiovascular, circulatory and heart functions resulting in a marked improvement when taken over the recommended period.
Hawthorn capsules in my product range (Hilde Hemmes' Herbals) may be taken to help optimise cardiovascular systems to perform at their peak.
Medicinal Use
Hawthorn has been considered invaluable for centuries, as it is one of the best heart tonics.
Today, as many people become concerned about their heart health, hawthorn should not be overlooked.
Taken regularly, hawthorn helps to improve heart health function, maintain a healthy heart, and optimise cardiovascular and circulatory systems to perform at their peak. Claims for this western herbal medicine are based on traditional use.
Active Ingredients
Each capsule contains standardised extract equivalent to dried Crataegus monogyna herb top flowering 1g (1000 mg) equivalent to vitexin-2-rhamnoside 6.66mg.
Features / Benefits
• Listed with the Therapeutic Goods Administration (TGA) as a herbal medicine.
• Contains appropriate information based on latest findings.
• Easy-to-swallow capsule with no unpleasant taste.
• Contains no artificial colours, preservatives, caffeine, gluten, lactose.
• Capsule shell made from vegetable origin - suitable for vegans and vegetarians.
• Standardised to guarantee potency.
---