---
---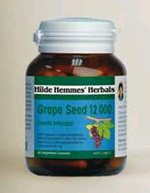 S$ 45.00
Product of Australia

If you cut an apple and leave it for a while, oxidation will cause it to turn brown. If you sprinkle the sliced apple with a little lemon juice, the apple will stay white because lemon juice contains vitamin C, an antioxidant that can prevent oxidative damage.
Lifestyle factors such as excess dietary fats, cigarette smoke, alcohol consumption, pollutants and stress can cause problems by eventually attacking and damaging cells. Oxidants or free radicals are by-products of human metabolism and environmental pollution.
A healthy state of oxidative balance is necessary for the maintenance of good health. Grape seed capsules prevent the formation of (and fight off) free radicals in the body. They are a potent antioxidant rich in flavonoids, specifically procyanidins, which are strong, free radical fighters considered to be 15 to 25 times more potent than vitamin E.
Medicinal Use
Antioxidants in grape seeds are nutrients which decrease the risk of cell damage attributed to free radicals in the body. Clinical studies show that extracts of grape seeds assist in the maintenance of peripheral circulation to hands, legs and feet. It not only improves capillary fragility, but also aids in the management of varicose veins and varicose ulcers.
Take grape seed capsules for the relief of aching legs, night cramps, fluid retention associated with varicose veins, and to support eye function and night vision.
Active Ingredients
Each capsule contains standardised extract equivalent to dried Vitis vinifera seed 12 g (12 000 mg) equivalent to procyanidins 85 mg.
Features / Benefits
• Listed with the Therapeutic Goods Administration (TGA) as a herbal medicine.
• Contains appropriate information based on latest findings.
• Easy-to-swallow capsule with no unpleasant taste.
• Contains no artificial colours, preservatives, caffeine, gluten, sugars or lactose.
• Capsule shell made from vegetable origin - suitable for vegans and vegetarians.
• Standardised to guarantee potency.
Volume: 45 caps