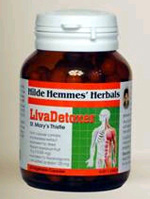 S$36.50
Product of Australia

Description
The liver is the largest gland in the body and its functions are complex. During my Detox Programs you will not only be cleansing your entire body of toxins, but you will also be treating your liver with a clinically-proven capsule.
Studies have shown that LivaDetoxer is an antioxidant which decreases the risk of liver cell damage attributed to harmful chemicals such as alcohol, and stimulates the growth of new liver cells.
As the liver plays a key role in detoxification, digestion and metabolism, I have included LivaDetoxer capsules in my range (Hilde Hemmes' Herbals) to improve and regenerate liver function during my various programs.
Medicinal Use
Clinical studies show that active ingredients in LivaDetoxer have a protective effect against many types of chemical toxins (including alcohol).
Besides detoxifying the liver, LivaDetoxer helps stimulate the growth of new liver cells and also promotes liver regeneration. As an antioxidant it decreases the risk of liver cell damage attributed to harmful chemicals and free radicals.
LivaDetoxer is an ideal liver formula and is a vital part of the Hilde Hemmes' detoxification programs.
Active Ingredients
Each capsule contains standardised extract equivalent to dried Silybum marianum fruit 10 g (10 000 mg) equivalent to flavanolignans calculated as silybin 120 mg.
Features / Benefits

• Listed with the Therapeutic Goods Administration (TGA) as a herbal medicine.
• Contains appropriate information based on latest findings.
• Easy-to-swallow capsule with no unpleasant taste.
• Contains no artificial colours, preservatives, caffeine, gluten, sugars or lactose.
• Capsule shell made from vegetable origin - suitable for vegans and vegetarians.
• Standardised to guarantee potency.