Hilde Hemmes' Herbals Detox Programs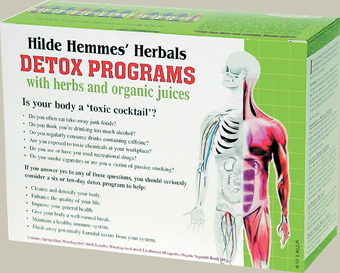 S$105.00
Our bodies weren't really designed for the convenience of the 21st century.
Today, toxins can be found in the air we breathe, water we drink, food we eat and the clothes we wear. As a result, most people carry a considerable amount of unwanted toxins in their precious bodies. These man-made toxins circulate through the bloodstream, lodge in the tissues and cells, and stay there. You can't see them, but that doesn't mean they are not there. If you allow these toxic wastes to build up, your body may become a 'toxic cocktail'.
Your body is your most important asset. Every part of it is made up of cells, with each cell performing its own job. Blood is responsible for delivering nutrients and oxygen to trillions of cells involved in performing vital functions. Food is transformed into nutrients to nourish and regenerate your body from head to toe.Toxins and free radicals, which are unwanted by-products of metabolism and environmental pollution, can deprive you of your strength, stamina and general well-being, in fact your passion for living.
Simple, convenient and cost effective.
Give your body a break! Detoxification treatments with herbs and organic juices have long been used throughout Europe and traditionally, juice fasting has been used in many different cultures.
Today, exclusive health retreats around the world charge thousands of dollars for simple detox programs you can now enjoy in the privacy of your own home.After successfully supervising more than 100 000 fasting treatments since 1920, renowned German therapist Dr Otto Buchinger confirms: "fasting is without any doubt the most effective biological method ... and much is gained to improve health".
How does detoxification work?
Cells are like tiny sponges - they absorb what you breathe, eat, drink and apply to your skin.
During fasting, juices and herbs are supplied to the cells in a concentrated form which is easy to digest and assimilated within minutes. It is the oldest, fastest, most powerful cleansing process that reaches right down to each and every cell and tissue in your body.
The entire alimentary canal (stomach and intestines) is totally cleansed. It is also one of the least expensive and most effective methods of removing toxins from the body. While juice fasting, your digestive system gets a complete rest without depriving your body of nutrients.
Old cells die and new, cleaner cells are formed. It's an inside job - the perfect antidote to living in the 21st century - and should be done regularly. You will find that the loss of unwanted body fat is a bonus!
Is your body a 'toxic cocktail'?
Do you often eat junk food?
Are you drinking too much alcohol?
Do you regularly consume drinks containing caffeine?
Are you often exposed to toxic chemicals?
Do you use or have you used recreational drugs?
Do you smoke or are you a victim of passive smoking?
If you answered yes to any of these questions, you should seriously consider a six or ten-day detox program.
How do I start the program?
Purchase the Hilde Hemmes' Detox Program Pack
The various programs are listed both on the Detox Program Pack and in this website.
If you're detoxing for the first time, I suggest one of the quick six-day programs.
The process of detoxification using organic jjuices is essential as it delivers rich vitamin, mineral and antioxidant components to the system.
The Hemmes' programs target the entire body in a natural, healthy way.
Organic juices provide lots of nutrients quickly, with little or no digestive effort on the part of the body, whereas cooked or raw vegetables require hours to digest.
The Hemmes' programs are designed to give your digestive system a well-earned break, making you secure in the knowlege that your body is not being deprived.
Prior to the fast, you might want to do an Electro Interstitial Scan @ Nutrimax Wellness to see the body's conditions before the fast, follow-up scans can be done to make progressive AB comparision before the fast, during the fast and after the fast.
Medicinal Use
Cleanses and detoxifies your body.

Enhances the quality of your life.

Improves your general health.

Gives your body a well-earned break.

Maintains a healthy immune system.

Flushes away potentially harmful toxins from your system.
Active Ingredients
Spring Klenz™ 30 teabags to help maintain healthy bladder and kidney function during the juice fast by encouraging urine to flow naturally from your urinary tract.

Laxative 30 teabags to aid in the relief of constipation (see product precautions).

LivaDetoxer 60 capsules detoxify the liver and help stimulate the growth of new liver cells. As an antioxidant they decrease the risk of liver cell damage attributed to harmful chemicals and free radicals.

Organic Vegetable Broth 110 g - a wonderfully warming, completely organic savoury drink.

Biotta Organic Juices - will need to purchase separately as they are not included in the Detox Kit.
Features / Benefits
Cost-effective compared with expensive detox resorts.

No additional grocery shopping needed.

No food preparation required.

Easy-to-follow six and ten day programs.

Quality organic products with no fertilisers, pesticides, artificial colouring or preservatives.

A valuable step towards a better you.
Dosage

Spring Klenz teabags - take three to four cups daily.

Laxative teabags - take one cup as required.

LivaDetoxer capsules - take two capsules daily.

Organic Vegetable Broth - take one to two cups daily.

Biotta organic juices according to selection of program.
Precautions

Use only as directed.

If you have specific dietary requirements, a chronic illness, are taking medication or are unsure of your state of health, either before or during detoxification, please seek medical advice.

Heavy exercise is not recommended while on any of the detox programs.

Not suitable for children under 12 years, during pregnancy or breastfeeding.
Duration of use
Six or ten days. For longer duration, please read this book...
Detox Coaching
Nutrimax Wellness provides detox and fast coaching. For more infomation, please call 62922991, 83338375 or email: edwinlowkh@gmail.com