Natto Essence MK7

Proprietary encapsulation of Natural Vitamin K2 60 mcg + Vitamin D3 400IU, 300mg x 30 softgel
Active Ingredients  
Amount / 300mg softgel    
有效成份                                                

剂量/

1粒300毫克  
Natto Extract 
contains natural Vitamin K2 
as Menaquinone MK7                                     

30  mg

 60  μg   

纳豆提取物
含有天然维生素K2          
Menquinone - MK7  

 30毫克

60微克

Vitamin D3   
400  IU  
维生素 D3  
400  IU 
Vitamin E 
10  mg   
维生素 E 
10毫克  

Lecithin 

20  mg 
卵磷脂  
20毫克  
Omega-3   DHA 
30  mg 
深海鱼油(Omega-3  DHA)  
30毫克  
Omega-3   EPA  
45  mg 
深海鱼油(Omega-3   EPA)  

45毫克  
APPLICATIONS / INDICATIONS                              
Rx 
适用范围   
服用方法  

Improve Bone Mineral Density

Anti Osteoporosis  
300mg  b.i.d 

改善骨矿物质密度

防止骨疏松  
300毫克b.i.d 

Coronary Heart Diseases

Cardiovascular Disease  
300mg  once 

冠心病

心血管疾病  
300毫克once  

Cancer prevention

Leukaemia, Lung,  Prostate 
300mg  once 

癌症预防:

白血病、肺癌、前列腺癌  
300毫克once  

Liver Diseases:

Alcoholic, Cirrhosis, Fibrosis

Chronic Viral Hepatitis B & C    
300mg  b.i.d 

肝病:

酒精性肝病、肝硬化、肝纤维化           

慢性乙型和丙型病毒性肝炎  
300毫克b.i.d  

Vitamin K deficiency:

Inflammatory bowel diseases

Long term Aspirin consumption 
300mg  b.i.d                 

缺乏维生素K:

炎性肠道疾病

长期服用阿司匹林 (Aspirin)  
300毫克b.i.d  
Dosage:

Children above 9:  1 softgel / daily

Adult:   2-3 softgel / daily or as advise by health professional  

用量:

9岁以上儿童:每日1粒

成人:每日2至3粒或咨询医药专业人员 

Contra Indication:

Patients on warfarin potassium therapy

Warfarin exhibits an anticoagulant action and prophylactic action against 
thrombosis by inhibiting the metabolic cycle of vitamin K in the liver cell and 
producing non-coagulant blood coagulation factors. vitamin K2 preparation 

diminishes the action of warfarin when co administered with it.                           

禁忌:

华法林钾治疗患者

华法林具有抗凝血作用,并且能预防血栓形成,

可以抑制维生素K参与血凝因子在肝脏的合成;

如并用,维生素K2会消弱华法林的功效。                               

Special Precaution: 

Children below 3 years  
注意事项: 3岁或以下的小孩慎用。  
Direction:  Take after meals.  
服用方法: 饭后服用。  
(Vit K2+ Vit D3+ Vit E)
强化骨质,抗骨质疏松症
(维生素K2 + 维生素D3 + 维生素E)  
Vitamin K Supplementation in Postmenopausal Women with Osteopenia 
(ECKO Trial): A Randomized Controlled Trial; PLoS Med. 2008 October; 5(10): 1–12.   
Effect of continuous combined therapy with vitamin K2 and vitamin D3 
on bone mineral density and coagulofibrinolysis function 
in postmenopausal women; Maturitas 41 (2002) 211–221  
Coronary Heart Diseases Prevention
(Vit K2+ Lecithin +Omega3 + Vit E)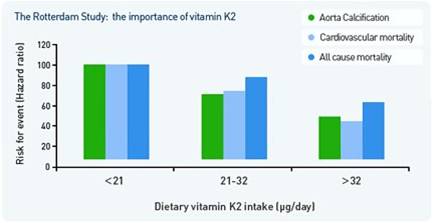 Dietary Intake of Menaquinone Is Associated with a Reduced Risk of 
Coronary Heart Disease: The Rotterdam Study ; The American Society for Nutritional Sciences J. 
Nutr. 134:3100-3105, November 2004  
MK7 is the most potent form of natural Vitamin K2:
45 mg of MK4  = 45 mcg of MK7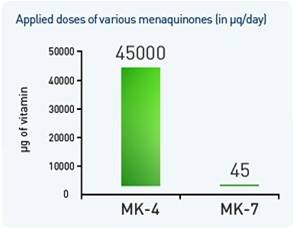 45mcg/daily of MK-7 is proven to be sufficient in order to increase the carboxylation process and the activation of vitamin K- dependent proteins such as osteocalcin for bone health and MGP for heart health.
---
Links to Clinical Papers
Check it out @ http://products.mercola.com/vitamin-k/?e_cid=20110915_DNL_art_1&source=nl
---
Ask a question:

Nutrimax Wellness Store, Singapore
390 Victoria St #02-30 Golden Landmark (Opp. Raffles Hospital) Singapore 188061 Tel: 6292 2991, 83338375 (Mobile)