We sorry that, the distributor in Singapore is no more carrying the Omega Juicers
Omega Juicers

The omega VERT VRT 402HD Masticating Juicer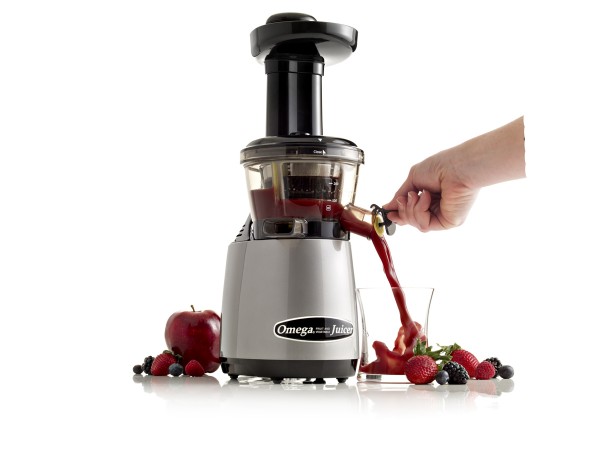 The Omega VRT402 HDS Juicer is the 220 VOLT model of VRT 400 HDS. S stands for Silver colour.
It is Omega's newest single auger Heavy Duty juicer. Its low speed of 80 RPMs results in minimal heat build up and oxidation promoting healthy enzymes and longer lasting juices.
Designed and engineered for health conscious individuals who want a greater variety in their daily juicing routine, the VRT 402HD has the ability to juice everything from wheat grass, leafy greens, fruits and vegetables. It can excels at making nut milks due to the all-new juice tap.
Features:
This low-speed juicer system, slowly squeezes fresh juice from fruits, vegetables and leafy greens. This masticating low speed system processes at 80RPM preventing oxidation. This is the World's first patented juicer utilizing the LSTS (Low Speed Technology System) method. It is a complete departure from the standard masticating method. The LSTS method allows the Slow Juicer to extract the maximum amount of nutrients, vitamins, taste and juice from a minimum amount of fruits, vegetables, leafy greens, even soybeans! Nutrients are preserved and maintained for up to 72 hours without degradation. With the larger feed chute you spend less time slicing and prepping your produce. Once all food is juiced, you simply open the tap and release the mixed juice into your glass. With the automatic pulp ejection, you can juice continuously.
During the juicing process, the AUTO-CLEANING system keeps the screen clear, increasing the machines efficiency. After you are finished juicing, the AUTO-CLEANING system minimizes the clean-up process. Simply close the juice tap, fill the bowl with water. The auto cleaning spinning brush cleans the juicer bowl. Then you simply open the tap and release. Continue this process until the water in the bowl is clear.
The vertical design is compact, contemporary and productive. With the Omega VRT400HDS Juicer form and function combine to give you the highest degree of extraction and the healthiest possible juice. Small Footprint - all of the performance of a masticating dual-stage single auger juicer, but with less space requirements than most centrifuge-style juicers
This juicer features a patented, stone mill-like screw, made of GE's ULTEM material, which is 8 times stronger than augers on other single auger juicers. The Omega VRT402HD juicer is easy to assemble and disassemble for quick cleaning.
Heavy Duty (HD) - This model Omega VERT is more durable than the Omega VRT330 due to the HD Juicing Screen.


Dual Stage Juicing - juice is extracted through the first crushing stage and before the pulp is ejected, it is then squeezed during the second pressing stage; resulting in more juice, and extremely dry pulp.


Automatic Wiping System (AWS) - World's first juicer with AWS. This juicer utilizes a silicone wiping blade, much like the wiping blade on your car that ensures the juicing screen stays clear of excess pulp so you will enjoy a higher yield and easier to clean screen.


Higher yields - Based on our testing, this juicer yields more juice than a comparable centrifugal ejection juicer.


Economical - Get the greatest amount of juice from the least amount of produce.


Higher Quality Juice - Enjoy more antioxidants, better flavour and superior freshness of your juice. No frothing or foaming, and none of the separation that occurs with other juicers.
The Omega VRT402HD will juice
Vegetables
Fruits
Leafy Greens
Wheatgrass
Unlike other juicers, it does not offer "multi-function" use. It was designed from the ground-up as a juicer, and that's what it does extremely well.
Juicer Type

Masticating Juicer

Finish

Silver

Speed

80 RPM Operation for Optimal Efficiency

Motor

2 HP Condenser Motor

Weight (lbs)

22.0

Dimensions

7" W x 8 1/2" D x 15 1/2" H (178mm W x 216mm D x 394mm H)

Wattage

150 Watts

Features

Mixing Juice Tap Function
Auto-Cleaning System
Capable of Juicing Wheatgrass at High Yield
Auto Cleaning System
Available in 120V/60Hz and 220V/50-60Hz

Warranty

Full 10 Years Warranty (Motor + Parts)
The Omega Vert VRT352 Masticating Juicer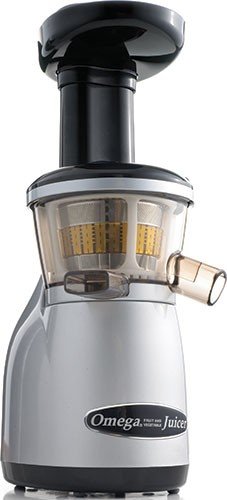 VRT352 is the 220 VOLT model of VRT350. This is a revolutionary product that features the high efficiency of a masticating style juicer in a vertical design.

Features:
The Vert is designed to be compact, contemporary and productive.
Low Speed. Most juicers process at a speed of 1,650 to 16,000 RPM, destroying many healthy enzymes and causing juice to degrade shortly after being extracted. The Vert VRT352 Low Speed Juicing System processes at 80 RPM, preventing oxidation and allowing juice to be stored for up to 72 hours without degradation.
With the Vert form and function combine to give you the highest degree of extraction and the healthiest possible juice.
The Vert VRT352 also features an innovative auto cleaning system that keeps the screen clear during juicing and increases its efficiency.
A virtually indestructible ULTEM juicing screen that will withstand heavy duty juicing. Ideal for fast pace commercial environments, this juicer combines a contemporary styling with the technology to cater to health conscious clientele.
Juicer Type

Masticating Juicer

Finish

Satin

Speed

80 RPM Operation for Optimal Efficiency

Motor

2 HP Condenser Motor

Weight (lbs)

22.0

Dimensions

7" W x 8 1/2" D x 15 1/2" H (178mm W x 216mm D x 394mm H)

Wattage

150 Watts

Features

Low speed, squeezing juicing system. Masticating juicer.
Capable of Juicing Wheatgrass at High Yield
Auto Cleaning System
Available in 120V/60Hz and 220V/50-60Hz

Warranty

Full 10 Years Warranty (Motor + Parts)
---
To order or to ask a question:

Nutrimax Wellness Store, Singapore
390 Victoria St #02-30 Golden Landmark (Opp. Raffles Hospital) Singapore 188061 Tel: 6292 2991, 83338375 (Mobile)