• 100% organic Aloe Vera juice
• No additives
• Hand-extracted leaf gel
• Aloe Vera plants from quality organic mixed cultivation

PHARMOS NATUR offers organic Aloe Vera juice of the highest quality and has over 20 years of experience in production, processing and usage.
Aloe Vera – an important plant for diabetics
Diabetics gain from a unique plant. People in Europe have reported many times that, by taking organic Aloe Vera juice they have been able to reduce their daily insulin requirement by around up to 50%. In the course of a large-scale study of 5,000 patients, it was observed that with continuous consumption of 25ml of organic Aloe Vera juice in the morning and evening, not only blood sugar levels could be balanced, but also decreased cholesterol and triglyceride levels significantly.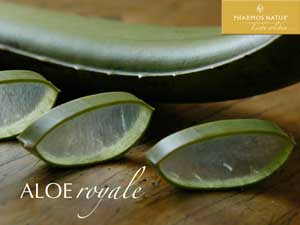 Over the course of their 3 -5 year growing period, natural Aloe Vera plants, like those which are grown by PHARMOS NATUR in mixed cultivation, produce distinctive glyco-nutrients, vitamins, minerals, trace elements and enzymes in the gel of their inner leaves. This unique formation of special constituents helps our body 's cells to absorb insulin better and to produce energy for our body. At the same time important repair processes can be carried out to the cells.

This effect can be explained as follows: glyco-nutrients in Aloe Vera play a decisive role in our body 's cells. That is because these glycol-nutrients are responsible for allowing nutrients to enter the cells, as well as taking waste products away from the cells. With the help of glyco-nutrients, cells are able to regenerate and become stronger.

In this way the positive properties of organic Aloe Vera juice account for the regeneration of internal mucous membranes, particularly in the intestine, the revitalization of the liver and the strengthening of the immune system. Effects that is particularly important for diabetics.

In the case of diabetes, every morning and every evening before bedtime drink 25ml of organic Aloe Vera juice slowly and move the juice back and forth in the mouth. Finally swallow. Do not eat or drink for 30 minutes.