Biotta Organic Digestive Drink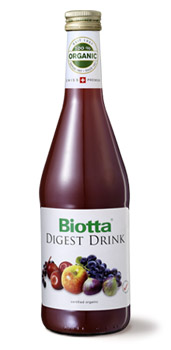 To enhance digestive activity.
Plums and figs, which contain soluble fiber and sorbitol, are recognized for their direct influence on digestive activity. Biotta Digest Drink is a special blend of plum juice and fig extract plus other valuable ingredients. Juice is pressed from freshly harvested organic fruit mixed with a herbal tea made from 7 different herbs to enhance its benefits: plum juice, fig extract, apple juice, grape juice, black chokeberry juice, lemon juice.
---
For more info and order:

Nutrimax Wellness Store, Singapore
390 Victoria St #02-30 Golden Landmark (Opp. Raffles Hospital) Singapore 188061 Tel: 6292 2991, 83338375 (Mobile)