Stachyose - Prebiotic

Stachyose, an essence extracted from Stachysfloridona, an edible vegetation grown on highland of 2,400 metres above sea-level in an unpolluted environment.


Stachysfloridona 地灵的根
Stachyose as a prebiotic, will not be destroyed or absorbed in human intestines, instead it can accelerate the proliferation speed of probiotic by as much as 40 times when it reached the large intestine.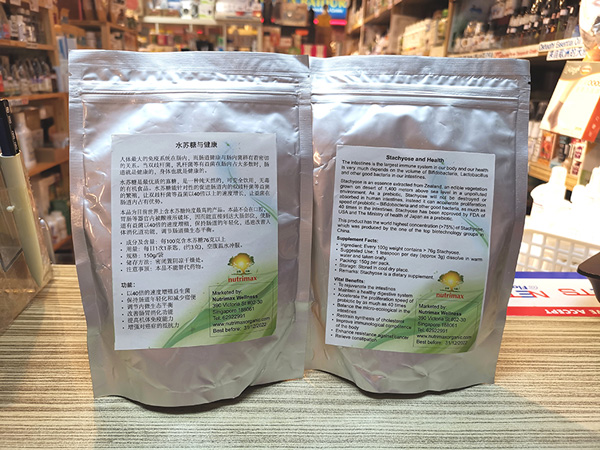 Supplement Facts:
Ingredient: Every 100g contains 65g Stachyose and 5g Raffinose

Suggested use: 1 teaspoon per day, taken directly or dissolve in warm water then drink.

Storage: stored in a cool dry place

150g per bag

Benefits:
To rejuvenate the intestines
Maintain a healthy digestive system
Accelerate the proliferation speed of probiotic by as much as 40 times
Balance the micro-ecological system in the intestines
Restrain synthesis of cholesterol
Improve immunity
Enhance resistance against cancer
Relieve constipation
| | | |
| --- | --- | --- |
| | Stachyose (Prebiotic) | Lactobacillus Drinks (Probiotic) |
| Shelf-life | 24 months (plant-based) | 7 days (bacteria) |
| Effective Temp | -5o C to 150 o C | Below 17 o C |
| Oxygen | Not affected | Majority of probiotic is killed during consuming, due to in contact with oxygen |
| Stability | Will not be destroyed or absorbed in human intestine | 90% of probiotic will be destroyed while passing through stomach |
| Proliferation | Accelerate the proliferation speed of probiotic by as much as 40 times and its activeness remain much longer | Probiotic will last less than 24 hours while passing through the large intestine |
| Suitability | People of all age group; diabetics as well as the aged incapable of feeding oneself | High sugar content, hence not suitable for tube-feed aged and diabetics |
---
To order or to enquire, please contact:

Nutrimax Wellness Store, Singapore
390 Victoria St #02-30 Golden Landmark (Opp. Raffles Hospital) Singapore 188061 Tel: 6292 2991, 83338375 (Mobile)