Biotta Wild Mountain Cranberry Juice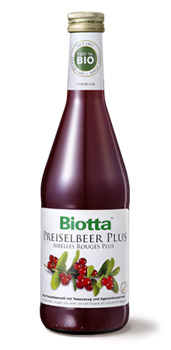 Wild Mountain Cranberries can have positive effects on the bladder.
Biotta produces Wild Mountain Cranberry from sun-ripened, wildgrown organic mountain cranberries (Vaccinium vitis-idaea) from Scandinavia and central Europe. The juice from wild mountain cranberries is recognized as having a high content of natural proanthocyanids (PACs).
Because cranberry juice is naturally strong and sour, Biotta's ready to drink Wild Mountain Cranberry contains birch leaf tea to enhance the benefits and 17% agave concentrate, in addition to the 30 % cranberry juice.
Biotta Wild Mountain Cranberry was developed in conjunction with the Centre for Bladder Research at the Thurgau Kantonsspital in Frauenfeld, Switzerland. Wild mountain cranberries can have positive effects on the bladder. For 40% of all women and many men, this is a good reason to drink Biotta Wild Mountain Cranberry regularly.
---
For more info and order:

Nutrimax Wellness Store, Singapore
390 Victoria St #02-30 Golden Landmark (Opp. Raffles Hospital) Singapore 188061 Tel: 6292 2991, 83338375 (Mobile)