ORGANIC BLACK FUNGUS AND NOURISHING GINSENG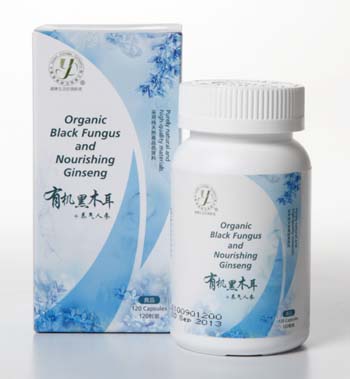 120 Vege capsules S$59.00
Stressed out? 
Suffering from bodily aches? looking tired & blemished?

Revitalise your health and complexion with Organic Black Fungus and Nourishing Ginseng!

Also known as the Wood Ear Fungus, Black Fungus is being honored as 'meat in vegetables' for its high level of protein and minerals - its vitamin B2 content is 10X as much as that of rice, flour and vegetables, and 3 to 5X as much as that in pork, beef and mutton. Prized in China for its effectiveness in promoting youthfulness and longevity, it has been labelled as a medicinal food for thousands of years.
Lowers high blood cholesterol

promotes blood circulation
improves ease of bowel movement and varicosity
protects against joint/cartilage injuries
contributes to weight loss and skin radiance
100% natural ingredients, safe and quality assured. suitable for vegetarians. produced under strict agricultural conditions & organic cultivation guidelines by Dayeh University Health & botanical medicine Research Centre
---
For more info and order, please contact:

Nutrimax Wellness Store, Singapore
390 Victoria St #02-30 Golden Landmark (Opp. Raffles Hospital) Singapore 188061 Tel: 6292 2991, 83338375 (Mobile)