Biotta Organic Vita 7 Juice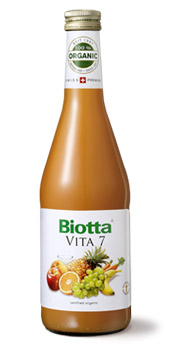 Biotta Vita7 – Your daily source for vital substances!
Biotta Vita7 is rich in valuable vital substances which reinforce the immune system and increase wellbeing. Vita7 is made with the utmost care from seven pure, natural organic juices. It contains no additives, for a really fruity, natural taste.
Juice made from freshly gathered organic fruits and other organic ingredients: orange juice, carrot juice, banana puree, apple juice, pineapple juice, whey, grape juice, sea buckthorn berries, beetroot juice and lemon juice.
Singled out from some 100 juices by the renowned BIO-Hotels' expert jury, Biotta's Vita7 (category: multi-vitamin juice) received the 2006 Best of Bio Award for its category.
---
For more info and order:

Nutrimax Wellness Store, Singapore
390 Victoria St #02-30 Golden Landmark (Opp. Raffles Hospital) Singapore 188061 Tel: 6292 2991, 83338375 (Mobile)