Aedream Bokbunja Black Raspberry Extract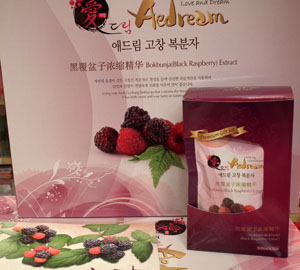 S$140.00 for 30 packets, 100ml each.
Bokbunja Black Raspberry is cultivated in the Gochang County in Korea. Its strong antioxidative power protects cells from the attack of active oxygen (a form of free radicals). In addition, it has four times of anthocyanins contained as much as grapes. Anthocyanins bring tremendous health benefits for both men and women.
Efficacy of Bokbunja Black Raspberry Extract:
- Antioxidant effect
- Vitamin C, polyphenol, anthocyanins etc
Remarkable benefits of Bokbunja Black Raspberry Extract:
Powerful antioxidant effect

Has anti-ageing effect

Has anti-inflammation effect

Skin care - prevents pigmentation, keeps skin smooth
---
Ask a question:

Nutrimax Wellness Store, Singapore
390 Victoria St #02-30 Golden Landmark (Opp. Raffles Hospital) Singapore 188061 Tel: 6292 2991, 83338375 (Mobile)