Yogurt Starter
1. Yogurt Starter Powder with Isomalto-oligosaccharide added.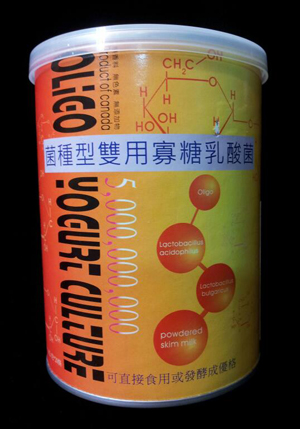 Oligo Yogurt Culture (8g x 20 sachets)
The culture powder is produced in Canada
Can be ingest directly (or mix with milk or juice) or use it for culture
Each sachet contained: Oligo Powder, Lactobacillus Bulgaricus, Lactobacillus Acidophilus, Skimmed Milk Powder, Sucrose, Ascorbic Acid.
1 sachet makes 1 liter of milk or soymilk yogurt
2. Yogurt Maker: S$25.00 per set

Home-Made Yogurt Kit (Economic and Pure)
What you need:
1000 ml of fresh milk/soya milk,

yogurt starter powder,

warmer box.

The process:
Pour the milk/soya milk into a stainless steel pot and heat with low fire to 44 degress Celsius (About 111.2 Fahrenheit). Slightly higher than the temperature that used to feed the baby;

Pour the warm milk into the glass container supplied together with the kit;

Add one little spoon (supplied with the powder) of yogurt powder into the warm milk;


Cap the glass container and place it into the Styrofoam warmer;


Cap the Styrofoam warmer and leave it on the table to allow the milk to ferment;

After about 8~10 hours, the warm milk would transform into fresh yogurt;

The freshly cultured yogurt can be kept fresh in the fridge for up to 2 weeks.

Tip: make it at 11pm and you will have warm yogurt @ 7am next morning.
---
To order or to ask a question:

Nutrimax Wellness Store, Singapore
390 Victoria St #02-30 Golden Landmark (Opp. Raffles Hospital) Singapore 188061 Tel: 6292 2991, 83338375 (Mobile)