Liver and Blood Detox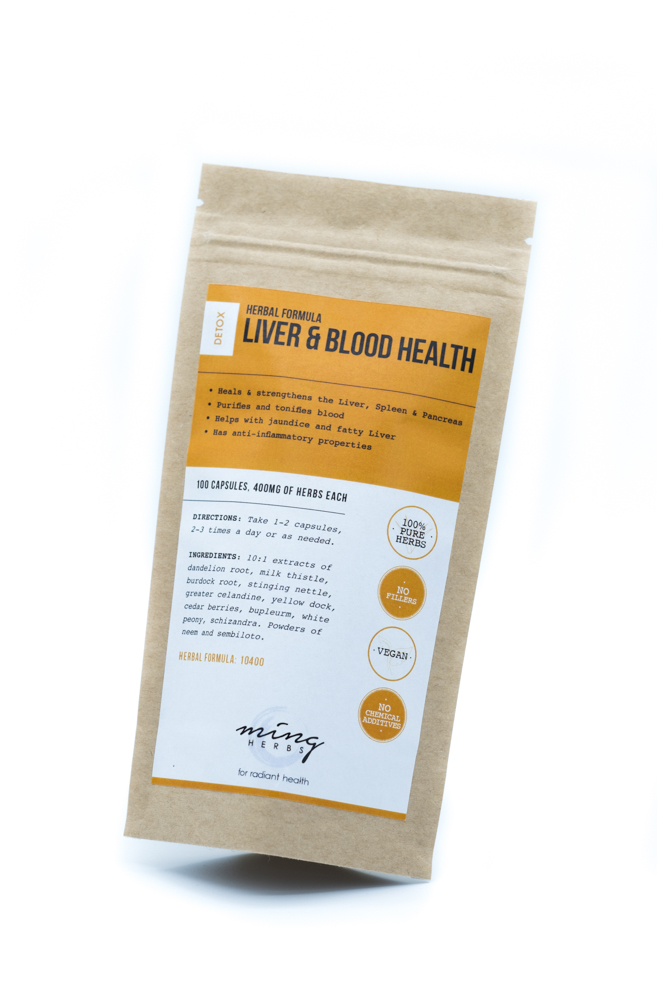 • Heals & strengthens the Liver, Spleen & Pancreas
• Purifies and tonifies blood
• Helps with jaundice and fatty Liver
• Has anti-inflammatory properties
Description
90 CAPSULES, 400mg of herbs EACH
DIRECTIONS: Take 1-2 capsules, 2-3 times a day or as needed.
INGREDIENTS: 10:1 extracts of dandelion root, milk thistle, burdock root, stinging nettle, greater celandine, yellow dock,
cedar berries, bupleurm, white peony, schizandra. Powders of neem and sembiloto.
HERBAL FORMULA: 10400
There is a common saying in Chinese medicine, "Blood nourishes Qi, Qi moves blood." In essence, to have good Qi, you must have healthy blood. Liver Qi supports the function of all organs and enables the harmonious flow of Qi throughout the entire body. There is always an element of liver Qi stagnation when we experience tension or pain. The liver is the chemical factory of the body. It produces bile which is essential for digestion and fat emulsification.
THE LIVER HOLDS AN ASPECT OF THE SOUL CALLED THE HUN AND THE LIVER ENERGY GREATLY INFLUENCES THE BALANCE OF THE HEART MIND.
Some symptoms connected to a toxic and congested liver or gallbladder are: nausea after eating, bloating and acid reflux, poor digestion, pale coloured stool, bad skin, liver spots, anaemia, loss of muscle tone and blood sugar problems.
Traditional Chinese Medicine connects the liver/gallbladder to the emotions of anger, frustration and irritation. The liver holds an aspect of the soul called the Hun and the liver energy greatly influences the balance of the heart mind. A toxic or overly yang/fire liver will agitate the heart energy, contributing to excessive mental chatters. Detoxing the liver and gallbladder will improve the function of all organs. It will also help reduce the connected emotional charges.
This formula consists of some of the best detoxifying, protecting, supporting, and blood-purifying herbs, such as: Milk thistle, yellow dock, dandelion root, stinging nettle and burdock root, bupleurum, white peony and schizandra. Greater celandine is known for dissolving gallstones. The bitters in neem and sembiloto act as excellent anti-pathogenic agents, and stimulate bile production. Finally, Cedar berries support the pancreas.
---
To order or to ask a question:

Nutrimax Wellness Store, Singapore
390 Victoria St #02-30 Golden Landmark (Opp. Raffles Hospital) Singapore 188061 Tel: 6292 2991, 83338375 (Mobile)