!– TemplateBeginEditable name="doctitle" –>

<!– TemplateEndEditable –> <!– TemplateBeginEditable name="head" –> <!– TemplateEndEditable –>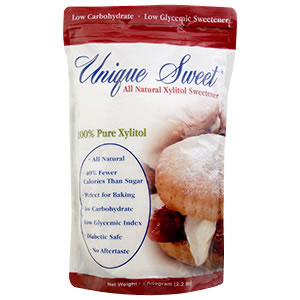 Features:
All Natural
40% Fewer Calories Than Sugar
Perfect for baking
Low Carbohydrate
Low Glycemic Index
Diabetic Safe
No Aftertaste
Unique Sweet® Xylitol is the naturally-occurring sweetener that tastes and pours like regular sugar but provides 40% fewer calories. Unique Sweet® also helps fight cavities by reducing decay-producing bacteria.
Recommended Dosage: use Unique Sweet® Xylitol Crystals just as you would ordinary sugar.
Ingredients: 100% pure Xylitol crystals. Contains no added starch, salt, wheat, gluten, coloring, dairy products, flavoring or preservatives.
Product Cautions: None
Nutrition Facts
Serving Size:4 grams (1 teaspoon)
Amount Per Serving (% Daily Value)
Calories: 10
Total Carbohydrate 4 g (1%)
Sugars 0
Xylitol 4 g *
*Daily Value not established
**Percent Daily Values (DV) are based on a 2000 calorie diet.
Keep container tightly closed in a cool, dry and dark place. Keep out of reach of children.