Brain Support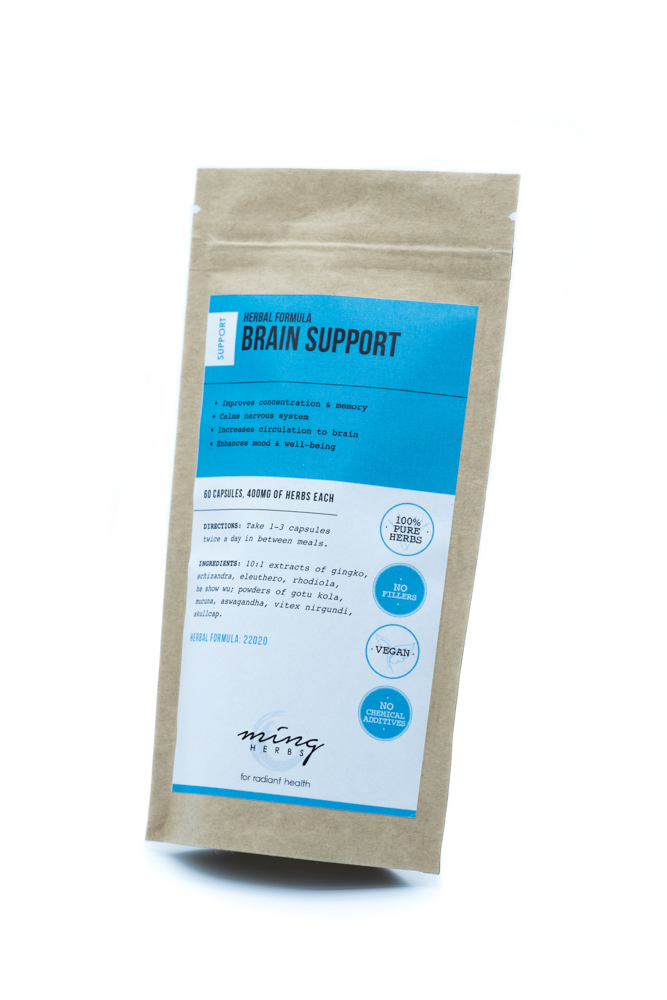 Description
60 CAPSULES, 400mg of herbs EACH
DIRECTIONS: Take 1-3 capsules twice a day in between meals.
100%
PURE HERBS
INGREDIENTS: 10:1 extracts of gingko, schizandra, eleuthero, rhodiola, he show wu; powders of gotu kola, mucuna, aswagandha, vitex nirgundi, skullcap.
HERBAL FORMULA: 22020
The brain is undoubtedly the most important organ in the body. We use a small segment of it's potential, relying on it mainly for logical and practical daily tasks. The brain is animated by Qi, consciousness, and via the 5 elements/senses. We use senses to interact with the world around us and create a certain stream of reality. When the different chakras open and vibrate at high frequencies, we can expand our perceptual experience by tapping into the ocean of 'Greater Reality'.

THE BRAIN IS DAMAGED OR BROKEN DOWN BY ACIDITY AND TOXICITY.
The different head chakras connect to the pineal
and pituitary glands, the medulla oblongata, and aid communication between the right and left hemispheres of the brain. Good brain function, deep relaxation, and some form of spiritual cultivation, will help us move forward on our inner journey.
Taking good care of our nervous, glandular, circulatory and internal organ systems, is essential to support a strong body. A strong body means a strong temple, within which our spirit can move freely. Spiritual progress always relies somewhat on our physical foundation, because a healthy body is the best base for every inner process.
The brain is damaged or broken down by acidity and toxicity.

Acidity, dehydration, chemicals and heavy metals are all common contributors to health problems, physical and mental – from memory lapses and lack of concentration, to Alzheimer's.
Our family of Detox Formulas: COLON CLEANSE, INTESTINE BROOM, KIDNEY CLEANSE, LIVER BLOOD DETOX, LYMPH DETOX are designed to offer solutions to these problems.
---
To order or to ask a question:

Nutrimax Wellness Store, Singapore
390 Victoria St #02-30 Golden Landmark (Opp. Raffles Hospital) Singapore 188061 Tel: 6292 2991, 83338375 (Mobile)