Intestine Broom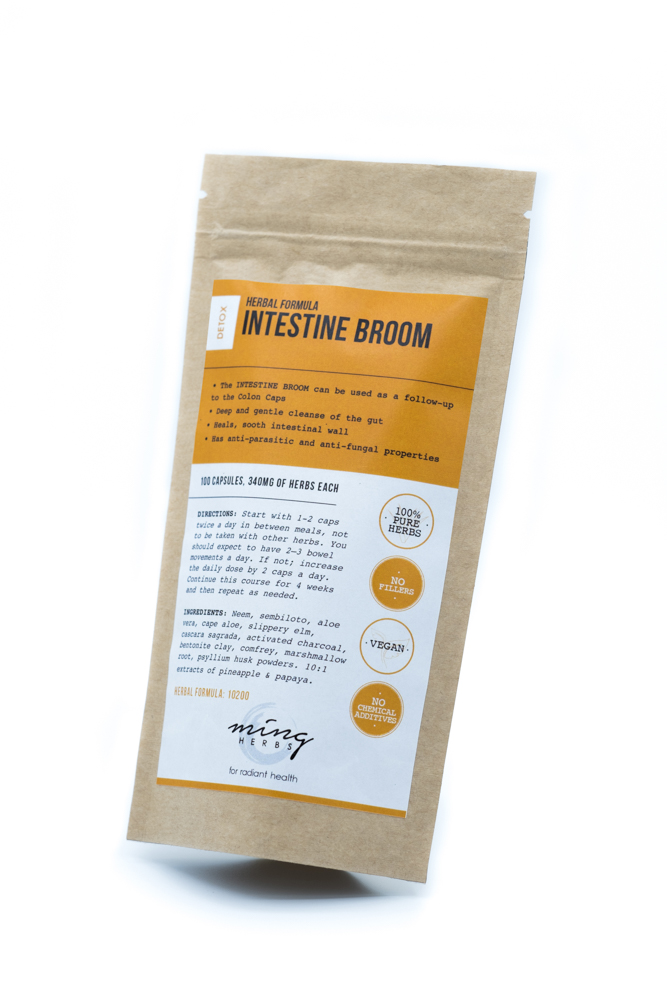 • The INTESTINE BROOM can be used as a follow-up to the Colon Caps
• Deep and gentle cleanse of the gut
• Heals, sooth intestinal wall
• Has anti-parasitic and anti-fungal properties
Description
90 CAPSULES, 340mg of herbs EACH

DIRECTIONS: Start with 1-2 caps twice a day in between meals, not to be taken with other herbs. You should expect to have 2–3 bowel movements a day. If not; increase the daily dose by 2 caps a day. Continue this course for 4 weeks and then repeat as needed.
INGREDIENTS: Neem, sembiloto, aloe vera, cape aloe, slippery elm, cascara sagrada, activated charcoal, bentonite clay, comfrey, marshmallow root, psyllium husk powders. 10:1 extracts of pineapple & papaya.
HERBAL FORMULA: 10200
Cleansing the gut is probably the best thing you can do to enhance your overall energy and health, and to prevent diseases. Before the gut is properly cleansed, it is difficult to clear the rest of the body of toxicity and acidity or to maintain the results of a very good detox programme. Intestine Broom (IB) is designed to cleanse the gut at a deeper level, using the activated charcoal and bentonite clay to pull the toxicity from the intestinal walls.
CLEANSING THE GUT IS PROBABLY THE BEST THING YOU CAN DO TO ENHANCE YOUR OVERALL ENERGY & HEALTH, & TO PREVENT DISEASES.
It is important to use the COLON CLEANSE formula first, to release the bulk of the waste, and then use IB to clean up the remaining harder to reach debris. Some herbs in this formula encourage bowel movements, to excrete the toxins as quickly as possible and prevent recirculation back into the body – which can cause nausea among other symptoms.
Other herbs in this formula help to heal the intestinal walls and the gut in general. The intent of IB is not only to detox, purge and kill pathogens; but to heal the gut and improve it's overall function so you can absorb nutrients better.
IMPORTANT NOTE: There are possible side effects of taking activated charcoal and/or bentonite clay all by themselves. If this is your first herbal colon cleanse or it has been some years since you have performed a thorough cleanse; use our COLON CAPS formula for 1- 2 months prior to the INTESTINE BROOM.
---
To order or to ask a question:

Nutrimax Wellness Store, Singapore
390 Victoria St #02-30 Golden Landmark (Opp. Raffles Hospital) Singapore 188061 Tel: 6292 2991, 83338375 (Mobile)