Biotta Organic Bio A+C Juice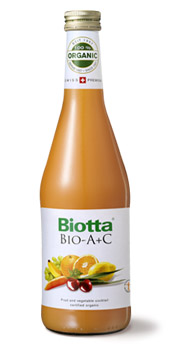 Stimulates cell function and strengthens the immune system.
Biotta Bio-A+C contains 2 important natural vitamins: pro-vitamin A (beta-carotene) and vitamin C. These 2 vitamins are able to neutralise the free radicals (chemically aggressive substances) that can damage body cells.
Biotta's Bio-A+C is natural tasting and easily digested, because it's a delicately processed blend of naturally pure fruit juices and high quality ingredients, without any additives.
Juice from fresh-picked organic fruits, organic vegetables and organic whey: orange juice, carrot juice, whey, agave concentrate, banana puree, grape juice, acerola pulp, lemon juice.
---
For more info and order:

Nutrimax Wellness Store, Singapore
390 Victoria St #02-30 Golden Landmark (Opp. Raffles Hospital) Singapore 188061 Tel: 6292 2991, 83338375 (Mobile)