Fit Solution

Cellular Nutrition from Switzerland
R & D in Germany. Made in Switzerland
Cell Energy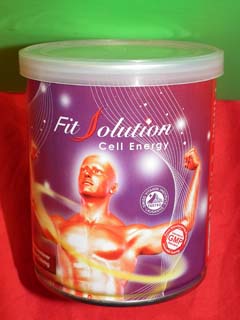 Vitamin B1, B2, B3, B6, B12, Vitamin C, Beta Carotene (Vitamin A), Fructooligosaccharide, Niacin, Folic Acid, Natural Brown Algae, Natural Guarana, Wild Oats.

Functions:
Enhances cell activation

Increases oxygenation in blood and microcirculation

Promotes blood and microcirculation, improves energy and eliminates fatigue

Improves alertness, prevents depression, fogginess and forgetfulness
Cell Nutrition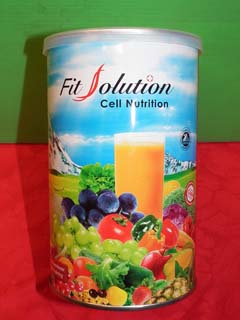 Contains:
32 types of basic enzymes from fruit and vegetable-based sources

12 types of soluble and insoluble soft and hard fibre

2 types of Swiss herb for detoxification and prevention of stone formation

Active probiotics (AB friendly bacteria), Fructo-oligosaccharides, natural antioxidants (Vitamin A, C, E), trace elements (Selenium)
Functions:
Improves intestinal environment and revitalizes good bacteria activity

Helps digestive system to eliminate long-term waste accumulation

Enhances immunity  and defense systems

Rapid supply and absorption of nutrients

Supply of natural antioxidants, protecting cells against free radical attacks

Eliminates body waste, controls appetite and maintains good body shape
Cell Mineral
Contains:
Calcium

Magnesium

Potassium

Selenium

Copper

Chromium

Iron

Vitamin D

 Beta Carotene

Rich in trace elements of Swiss herbs.
Functions:
Helps to balance and metabolise acidic substances

Helps to strengthen bones and relax muscles

Improves sleep

Rapid supplement of various minerals to maintain healthy bones
Features
Cell Energy, Cell Nutrition and Cell Mineral apply a rapid and efficient cellular nutrient absorption technology:
CBN (Complete and Balance Nutrients): Elements designed for human body needs »» »  Perfect Combination

NAS (Nutrient Absorption System): Rapid access to cell»»» Rapid Results

ESA (Energy Slope Arrangement): Access cells of the lowest energy first »»» High Efficiency
* Cell Energy, Cell Nutrition and Cell Mineral are free of artificial sweetener and coloring
In the morning, mix 1 scoop of the Cell Nutrition and 3 scoops of Cell Energy with 300ml of pure water at room temperature. Drink the mixture slowly as the nutrients would enter mucous membrane directly.
Before sleep, mix 2 to 3 scoops of the Cell Mineral with 300ml of water and drink it slowly.
Don't use very hot water, as it destroys the nutrients.
---
Ask a question:

Total Swiss FitSolution is available at:
Nutrimax Wellness Store, Singapore
390 Victoria St #02-30 Golden Landmark (Opp. Raffles Hospital) Singapore 188061 Tel: 6292 2991, 83338375 (Mobile)