NanoXan Gold 100% Mangosteen Juice
The Mangosteen (Garcinia Mangostana) originates from tropical areas of South East Asia and has been used in traditional Asian medicine for centuries. Much recent scientific research has been conducted on the mangosteen and the beneficial properties of the Pericarp (rind). This beautiful dark purple fruit with its white segmented interior, contains the potent antioxidant power of Xanthones. 

These Xanthones carry a host of health benefits and although some other fruits are also antioxidant rich, none are found to be as powerful as the mangosteen. Other vitamins and minerals include magnesium, zinc, potassium and vitamins C and B1. 

Nanoxan 100% mangosteen juice is not produced from concentrate and is preservative and pesticide free. There are no artificial colours, flavours or sweeteners and is made using the "whole fruit technique". 

Supplying yourself with quality "anti-aging" whole food antioxidants along with a healthy diet is your first and best line of prevention against aging and disease.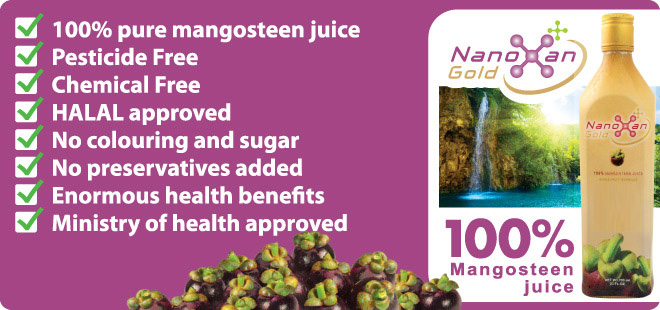 What are Xanthones
Xanthones are polyphenolic compounds (antioxidants) that occur naturally in nature. There are around 200 known xanthones and over 40 of the most powerful are found in the mangosteen's Pericarp (rind). This makes mangosteen very unique as compared to any other "super" fruit. 

In every 30ml dose of NANOXAN 100% MANGOSTEEN JUICE there is no less than 15 mlg of xanthones, which makes our juice many times more potent than other mangosteen juices. 

Medical Doctors and Scientists from around the world have discovered many useful medical properties from Xanthones including anti cancer effects in shrinking tumors, apart from many other medical benefits including-


anti aging

anti bacterial

can assist in lowering cholesterol

assists with skin conditions including acne
can assist in maintaining eye health

helps prevent constipation

supports a healthy cardiovascular system

anti inflammatory (supports cartilage and joint function)
Other diseases:
Hypertension, gastrointestinal health, diabetes, migraine headaches, kidney and bladder infections, depression/anxiety, dental health, women's health and many more health problems. Xanthones in mangosteen are 20-30 times more powerful than any other fruit or vegetables.

The Whole Fruit Technique 
We have dedicated thousands of hours of research to finally produce a 100% mangosteen juice, in the form of Nanoxan. 

Producing mangosteen juice from the rind, flesh and kernel is called "Whole fruit Technique", this is a complex production process and is very difficult to maintain a wonderful natural taste from the acidic bitter parts of the mangosteen fruit.
Others have tried and failed to produce a 100% mangosteen juice with such a natural sweet taste , that's why they add other juices and preservatives. We can guarantee that every single drop of Nanoxan 100% juice, remains sweet and fresh as well as maintaining the amazing properties of Xanthones.
Benefits of Nanoxan whole fruit technique are as follows:
Our 100% juice maintains more than the 40 types of xanthones, which benefit the human body and constrains free radicals.

Has the right amount of natural sucrose and fructose to benefit human health.
Is rich in other valuable natural compounds such as phenolic compounds which help the physiology system.
Our whole fruit technique of Nanoxan gives the organic compounds from nature such as enzymes, cytoplasm and phytochemical to help cells in the human body to perform better.
---
To order or for more info, please contact:

Nutrimax Wellness Store, Singapore
390 Victoria St #02-30 Golden Landmark (Opp. Raffles Hospital) Singapore 188061 Tel: 6292 2991, 83338375 (Mobile)