Life Force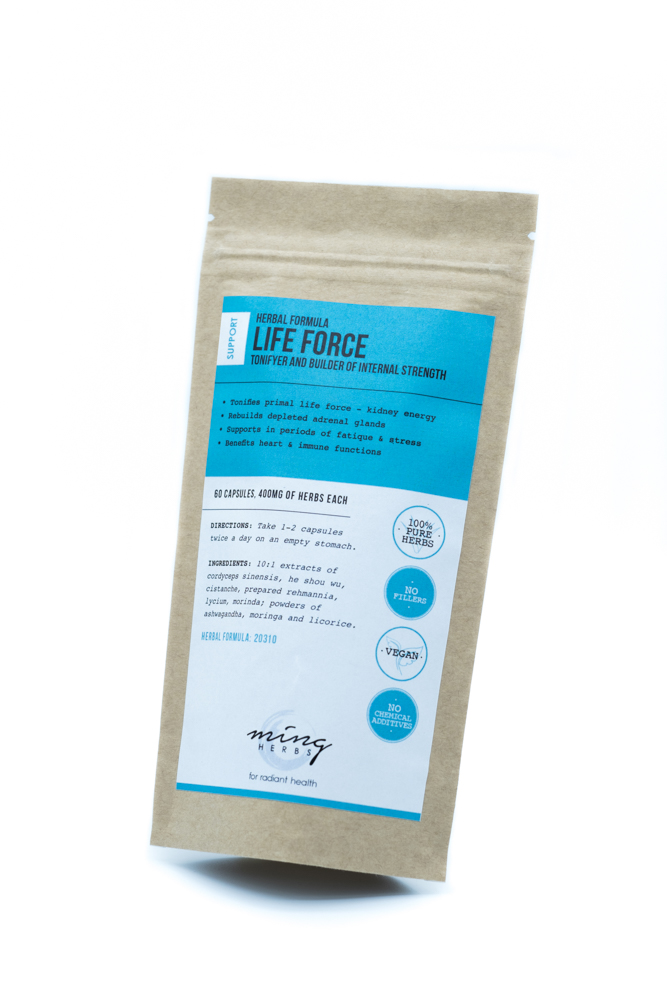 • Tonifies primal life force – kidney energy
• Rebuilds depleted adrenal glands
• Supports in periods of fatique & stress
• Benefits heart & immune functions
Description
60 CAPSULES, 400mg of herbs EACH
DIRECTIONS: Take 1-2 capsules twice a day on an empty stomach.
INGREDIENTS: 10:1 extracts of cordyceps sinensis, he shou wu, cistanche, prepared rehmannia, lycium, morinda; powders of ashwagandha, moringa and licorice.
HERBAL FORMULA: 20310
The main ingredient in this formula is the 10:1 extract of Cordycep Sinensis, which is a potent medicinal mushroom, good for a wide range of health benefits that have been used in China for over 2000 years.
THE HERBS IN THIS FORMULA ARE KNOWN TO INCREASE HEALTH AND VITALITY, COMBAT AGING AND PREVENT VARIOUS DISEASES.
Along with Fo Ti extract this formula is amazing against adrenal fatigue, helping to invigorate tired bodies.

Another name for Fo Ti is He Show Wu which translates as Mr. Wu' black hair. Story has it that Mr. Wu was quite depleted and exhausted to the point that his hair turned grey, which was uncommon in the old days. Through taking Fo Ti his hair transformed back to its natural black color.
If you understand Traditional Chinese Medicine then this story makes sense because head hair is connected to the kidney, adrenal energy, which is connected to a person's overall health. So hair loss and premature greying are signs of stress and depletion in the body. Unfortunately this has became a common theme today for people of all ages and cultures.
The herbs in this formula are known to increase health and vitality, combat aging and prevent various diseases. It is a great formula against exhaustion, decreased libido, and lower back pain; all related to adrenal, kidney weaknesses.
---
To order or to ask a question:

Nutrimax Wellness Store, Singapore
390 Victoria St #02-30 Golden Landmark (Opp. Raffles Hospital) Singapore 188061 Tel: 6292 2991, 83338375 (Mobile)