We sorry that, the distributor in Singapore is no more carrying the Omega Juicers
Omega VSJ843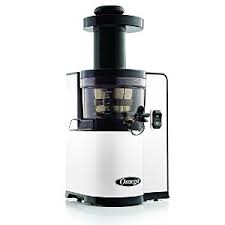 220V/50-60Hz
The tighter fit tolerance of the new dual-edge auger strains more juice and breaks down fiber to a palatable level for a smoother, nutrient-dense juice. This gentle squeezing action keeps healthy enzymes intact, reduces heat build-up, delays the oxidation process, and increasing the juice's shelf life. Squeeze juice from fruits, vegetables, leafy greens, even wheatgrass or make nut milks. Automatic pulp ejection, so you can juice continuously.
The AUTO-CLEANING system keeps the screen clear, increasing the machines efficiency. After you are finished juicing, the AUTO-CLEANING system minimizes the clean-up process.
The vertical design is compact, contemporary and productive. With the Omega VSJ843RS, form and function combine to give you the highest degree of extraction and the healthiest possible juice.
The VSJ843RS, Juicer is the newest, lowest speed vertical masticating juicer in Omega's offering.
Note: This is 220V/50-60Hz version. For 120V/60Hz version, please click this: Omega VSJ843 120V
.
To order or to ask a question:

Nutrimax Wellness Store, Singapore
390 Victoria St #02-30 Golden Landmark (Opp. Raffles Hospital) Singapore 188061 Tel: 6292 2991, 83338375 (Mobile)