MÖLLER's Cod Liver Oil Lemon Flavour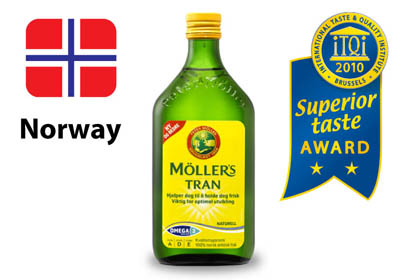 Medical quality cod liver oil natural flavor. 250 ml. S$46.00
Ingredients: cod liver oil, dl-α-tocopherolacetate (Vitamin E), natural tocopherols (antioxidant)
Recommended daily dosage:
*2.5ml ~ 5ml for first 6 months  of life
*Please consult  your doctor.
5ml for babies above 6 month  old and adults Do not exceed recommended daily dosage. Keep away from children.
Keep the bottle in the refrigerator after opening.
Each 5ml Moller's Cod Liver Oil contains:

A-vitamin
D-vitamin
E-vitamin
Omega-3 fatty acids
Docosahexaenoic acid (DHA)
Eicosapentaenoic acid (EPA)

250 µg (31%)
10 µg (200%)
10 mg (83%)
Total 1.1g
0.6 g
0.4 g
Healthy for body - good for heart
Möller's cod liver oil is produced from cod liver of the best quality and is a natural source of omega-3 and vitamins A and D.
Möller's Cod Liver Oil undergoes very strict quality control during the whole production process.
Omega-3 fatty acids have beneficial effect on heart, blood circulation, skin and joints. Möller's Cod Liver Oil is rich in DHA.
This omega-3 fatty acid is very important for optimal brain development and eyes function.
It is advised to take 1-2g of omega-3 fatty acids daily.
5ml of Möller's Cod Liver Oil gives you 1.2g of omega-3 fatty acids.
Vitamin D facilitates absorption of calcium, which helps to strengthen bone structure.
Vitamin A is important for different body functions such as eye vision and immunity.
Vitamin E protects body cells from free radicals and works as antioxidant.
---
For more info and to order:

Nutrimax Wellness Store, Singapore
390 Victoria St #02-30 Golden Landmark (Opp. Raffles Hospital) Singapore 188061 Tel: 6292 2991, 83338375 (Mobile)