I-DNA Deer Placenta -- Advanced Live Cell Therapy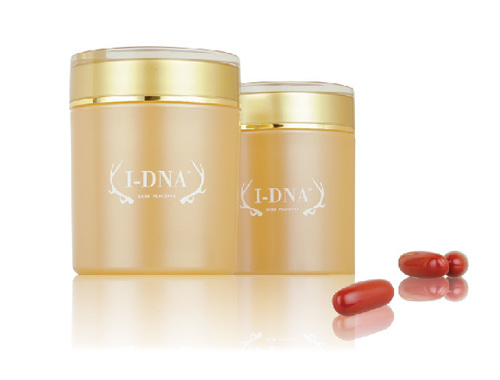 6 bottles x 30 capsules. Product Shelf Life: 3 years. Once open keep refrigerated at all time
Combination of Scientific Research and New Technology
I-DNA Deer Placenta is a New Zealand product, adopting the living cells from the fresh deer placenta that carrying better compatibility with human body, without causing any allergic reactions and cellular rejection responses. By using the advanced Freeze Dying Technology to preserve the cell bioactivity of the placenta, these placenta live cells present effective result in rejuvenation, enhancing the body immune system, regenerating of body cells, repair and restore the tissues and organs,  helping you to regain your health, vitality and a vigorous physique!
Why Deer?
Beauty Secret of Ancient Beauties
Deer is a precious animal with a long life span and is a symbol of beauty, health, and energy in the animal world. Without any significant sign of aging, the energetic life of a deer is because of its active vitality in the placenta- Diacylglycerol Pyrophosphate (DGPP). 
Deer Placenta contains Protein, Amino Acids, Multivitamins, Minerals and other essential elements that could help in improving SOD activity in human body, speeds up the metabolism rate and removes the accumulated toxins in the body. These allow one to feel younger, more beautiful and most importantly,
slow down the aging effect.  
10 Advantages
Improves skin texture, radiance and tenderness. 
Enhances skin rejuvenation and reduces scars. 
Promotes burning of body fats.  
Helps relieve body fatigue, improves body fitness 
and stamina. 
Moistens the skin and reduces wrinkles. 
Improves the blood circulation. 
Reduces pigmentation and wrinkles, spots
and melanin sedimentation.  
Strengthens body immune system. 
Regulates and adjusts menstrual cycle, reduces the pain of
menstrual colic and climacteric symptoms. 
Eliminates the unwanted substances in the body
and improves digestive system.  

Ingredients:
Deer Placenta (20:1) 
Equiv to Deer Placenta Fresh 9000mg
450mg
Resveratrol
2.5mg
Beeswax Yellow
5mg
Vitamin E (1300 IU/g)
5mg
Lecithin Liquid 
30mg
Soy Oil   
570mg
Recommended Intake:
First 1-2 months: 2 softgels daily
Maintenance: 1 softgel daily
---
To order or to ask a question:

Nutrimax Wellness Store, Singapore
390 Victoria St #02-30 Golden Landmark (Opp. Raffles Hospital) Singapore 188061 Tel: 6292 2991, 83338375 (Mobile)