All Natural Kids - Lollipop For Cold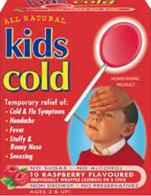 An All Natural, Homeopathic Raspberry flavoured lozenge which provides temporary relief from:
Cold and flu symptoms
Headache
Fever
Stuffy and runny nose
Sneezing
The ingredients are traditionally used to relieve the following symptoms:
Kali Bichromium 30C – Will assist when there is thick and stubborn nasal mucous.
Nux Vomica 30C – Relieves headaches, stuffy colds and sniffles and will provide relief for symptoms which are worse at night.

Pulsatilla 30C – Provides relief from runny, mucous and stuffy noses.

Allium Cepa 30C – Relieves watery mucous and helps stop sneezing.
Dosage: up to 3 per day. Begin Kids Cold at the first signs of cold and fever.
Not to be used in children under 2 years of age without medical advice. If systems persist or worsen suddenly, please consult your healthcare specialist. Keep this and all other medicines out of reach of children.
About All Natural Kids
Natural and gentle medication specially designed for children. Young kids respond well to the comfort of sucking when they are distressed or unwell and the "kids" products taste great while providing relief.
Mothers appreciate it and the two most common comments are that the products are easy to administer as well as beneficial. Mums and kids love them! Homeopathic medicines should be sucked, not chewed in order to assist absorption of the active ingredients. It is not necessary to 'finish' the lozenge to obtain the full benefit of the medication. All Natural Kids is an Australian product and has been around since year 2000.
Homeopathy is a 200 year old medicine that treats illness by administering minute doses of a symptom-causing substance to the body to activate its own natural response. All Natural Kids is made from homeopathic formula which are derived from plants or mineral extracts diluted to the desired strength.
---
Ask a question:

Nutrimax Wellness Store, Singapore
390 Victoria St #02-30 Golden Landmark (Opp. Raffles Hospital) Singapore 188061 Tel: 6292 2991, 83338375 (Mobile)