!– TemplateBeginEditable name="doctitle" –>

<!– TemplateEndEditable –> <!– TemplateBeginEditable name="head" –> <!– TemplateEndEditable –>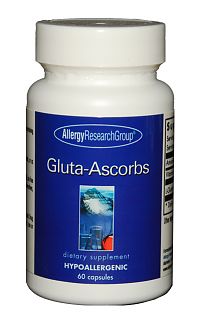 Glutathione is considered to be the most powerful, most versatile, and most important of the body's self-generated antioxidants. It is also involved in the phase I and phase II of liver detoxification. The combination of detoxification and free radical protection, results in glutathione being one of the most important anticarcinogens and antioxidants in our cells
Gluta-Ascorbs is a combination of two of the body's premier antioxidant nutrients that are also its premier antitoxins. Reduced glutathione, a thiol antioxidant nutrient, is a major water-phase antioxidant inside the cell, while ascorbate is a major water-phase antioxidant outside the cell. The liver is the body's main detoxification organ; it reacts potentially toxic foreign chemicals such as bromobenzene, carbon tetrachloride, and acetaminophen together with water-soluble antioxidants to render them water-soluble, then excretes them mainly via the bile and the urine. Gluta-Ascorbs supports primarily phase II detoxification.*
Suggested Use: As a dietary supplement, 1 capsule one to three times daily between meals, or as directed by a healthcare practitioner.
Product Cautions: None
Serving Size 1 capsule
Servings per container 60
Amount per serving:
Vitamin C (as Ascorbic Acid) 200 mg
L-Glutathione (reduced) 200 mg
Other ingredients: Hydroxypropyl methylcellulose, stearic acid , silicon dioxide.
Keep in a cool, dry place, tightly capped.
A very comprehensive explanation on Glutathione can be found here...