!– TemplateBeginEditable name="doctitle" –>

<!– TemplateEndEditable –> <!– TemplateBeginEditable name="head" –> <!– TemplateEndEditable –>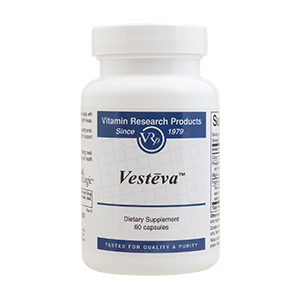 Note: This product is no more available. Will offer similar product shortly.
Vesteva™ is a proprietary herbal and mineral formula designed to support healthy bladder tone and bladder function.  Most commonly, it is post-menopausal women, child-bearing women and some men who seek support for healthy bladder control.
Vesteva™ contains a proprietary blend of crataeva bark and horsetail herb extracts to promote healthy bladder tone, as well as calcium, magnesium and the trace mineral silica for important nerve, muscle and tissue support.*
Recommended Dosage:
Serving Size: 2 Capsules

Serving per container: 30

Amount Per Serving

% Daily Value**

Calcium (calcium hydrogen phosphate)

33 mg

4%

Phosphorus (calcium hydrogen phosphate

50 mg

6%

  

and magnesium phosphate

Magnesium (magnesium phosphate)

29 mg

8%

Proprietary Blends

1300 mg

*

Three-leaf caper (Opteva™)(Crateva nurvala)extract (stem bark), Horsetail (Equisetum arvense) extract (herb), Silica (as colloidal anhydrous)

*Daily Value not established

Other Ingredients: Maltodextrin, hydroxypropylmethylcellulose (vegetarian capsule) and magnesium stearate.

Contains no added starch, salt, wheat, gluten, coloring, dairy products, flavoring, or preservatives.

Keep container tightly closed in a cool, dry and dark place. Keep out of reach of children.