!– TemplateBeginEditable name="doctitle" –>

<!– TemplateEndEditable –> <!– TemplateBeginEditable name="head" –> <!– TemplateEndEditable –>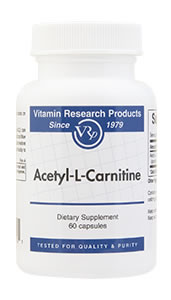 Product of America
One of the most effective nutrients in enhancing mental quickness, acetyl-L-carnitine (ALC) has been used for years in Europe. This powerful cousin of L-Carnitine has been dubbed "The King of Carnitines" because of its ability to improve brain function while still providing all the benefits that L-Carnitine is known for. When you add an acetyl group to an amino acid (e.g. N Acetyl Cysteine, Acetyl L-Tyrosine or Acetyl L-Carnitine) you make it more soluble in blood serum so more of the amino gets absorbed. About 7.5 to 10.2% of the carnitine in the body is in the form of ALC.
In addition to improving solubility, the acetyl group helps provide additional benefits when using ALC.
ALC is able to help remove lipofuscin (cellular garbage) deposits in heart and brain tissue.
It retards the decline of NMDA neurotransmitter receptors that naturally occurs as we age.
The Mitochondrial DNA theory of Aging is based on damage to mitochondrial DNA. ALC slows the rate of mDNA damage.
For Intermittent Claudication patients, 2,000 to 4,000 mg of ALC per day improves walking distance without pain.
After a stroke, ALC (especially in combination with Lipoic Acid) protects against many of strokes after effects.
Like its L-Carnitine cousin, ALC helps ferry fatty acids from the bloodstream into the mitochondria, supporting patients with congestive heart failure.
ALC helps prevent glycosylation (AGE) damage to the optic nerve and in those patients with cataracts, glaucoma and diabetic retinopathy, thereby helping support the body functionally.
ALC seems to slow or reverse the decline in cholinergic receptors (those that use acetylcholine) that comes with normal aging. This action helps maintain a good memory.
ALC enhances the release of the neurotransmitter, dopamine and improves dopamine's binding to its receptors.
ALC improves attention span and improves the mood (possibly through dopaminergic action).
ALC helps inhibit neuronal degeneration seen in neuropathy, including diabetic neuropathy.
ALC enhances short-term, long-term and spatial memory, as well as verbal fluency.
* Research shows acetyl-L-carnitine combined with alpha-lipoic acid can increase energy levels and improve memory in aging laboratory rats. Proceedings of the National Academy of Sciences. Feb.19, 2002:99:2264-2269.
Recommended Dosage: one to six capsules per day in divided doses on an empty stomach
Product Cautions: None
Supplement Facts
Serving Size: 1 Capsule
Amount Per Serving % Daily Value
Acetyl-L-Carnitine 500 mg *
(acetyl-L-carnitine HCI)
*Daily Value not established
Other Ingredients: Hydroxypropylmethylcellulose (vegetarian capsule).
Contains no added sugar, starch, salt, wheat, gluten, corn, coloring, dairy products, flavoring or preservatives.
Keep container tightly closed in a cool, dry and dark place. Keep out of reach of children.