!– TemplateBeginEditable name="doctitle" –>

<!– TemplateEndEditable –> <!– TemplateBeginEditable name="head" –> <!– TemplateEndEditable –>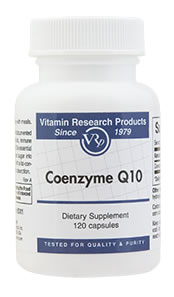 Product of America
Coronary heart disease is the leading cause of death in the United States. While dietary measures and exercise play an important role in preventing heart attacks, a general resistance to lifestyle alterations suggests that a fortifying substance is needed to keep the heart functioning properly. Research indicates that substance may come in the form of a nutrient called Coenzyme Q10, a naturally occurring molecule similar in structure to vitamin K.
Its presence assists with the production of adenosine triphosphate (ATP), upon which all cellular functions depend. In addition, Coenzyme Q10's antioxidant and membrane-stabilizing properties prevent cellular damage resulting from normal metabolic processes. Large concentrations of CoQ10 are packed into the heart muscle cells, which have a high-energy requirement.
Recommended Dosage: 60 mg to 300 mg per day
Product Cautions: None
Supplement Facts
Serving Size: 1 Capsule
Amount Per Serving
Coenzyme Q-10 30 mg *
*Daily Value not established

Other Ingredients:
Microcrystalline cellulose and hydroxypropylmethylcellulose (vegetarian capsule).
Contains no added sugar, starch, salt, wheat, gluten, corn, coloring, dairy products, flavoring, or preservatives.
Keep container tightly closed in a cool, dry and dark place. Keep out of reach of children.