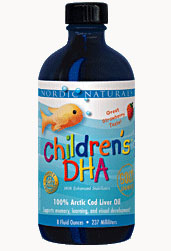 Nordic Naturals Arctic Cod Liver Oil for kids! Our award-winning flavored cod liver oil has been taste tested by children and contains healthy levels of naturally occurring vitamins A and D. Molecularly distilled for purity, Children's DHA Liquid has the highest Omega-3 level of any cod liver oil. Enhanced with strawberry essence for a great taste kids love.
Ingredients: purified arctic cod liver oil, d-alpha tocopherol, strawberry essence, rosemary extract
Suggested Use: For kids 1 years old and above. 1/4 - 1/2 teaspoon teaspoon daily, with food, or as directed by your health care professional or pharmacist.
General Nutrient Support
DHA (docosahexaenoic acid) is a polyunsaturated fatty acid found in deep-sea cold water fish. DHA is an essential nutrient for proper brain, nervous system, and visual function and must be obtained through the diet. A healthy balance of DHA is essential to properly care for the brain throughout life, particularly during the early stages of development.
A high concentration of DHA can be found in mother's breast milk. However, the level is directly related to the amount of Omega-3 fatty acids that are consumed in the mother's diet. Due to refined foods and trendy diets, many individuals have reduced their intake of the dietary sources of Omega-3 fatty acids, contributing to lower levels of DHA in breast milk. The impact of low DHA intake on neurological function of adults and children is the subject of ongoing clinical investigations.
Product Cautions: Consult with your physician before using this product if you are allergic to iodine, using blood thinners, or anticipate surgery. Keep out of the reach of children.
All Nordic Naturals products are doctor recommended, pharmaceutical grade, molecularly distilled, and third party tested to document the absence of all environmental pollutants (No PCBs, dioxins, pesticides or heavy metals). Our featured products are flavored using our patented processing with natural lemon and strawberry essence!

Each 1/2 teaspoon provides:
DHA: 313 mg Vitamin A: 325–750 IU
EPA: 205 mg Vitamin D: 1–10 IU
Other Omega-3s: 113 mg Vitamin E (d-alpha tocopherol): 15 IU
Nordic Naturals was ranked #1 out of the top 10 fish oil brands in Norway for highest concentration, freshness, and purity. This award is an honor since the products in Norway are monitored by the Norwegian Medicinal Standard, which have the most stringent requirements in the world.