!– TemplateBeginEditable name="doctitle" –>

<!– TemplateEndEditable –> <!– TemplateBeginEditable name="head" –> <!– TemplateEndEditable –>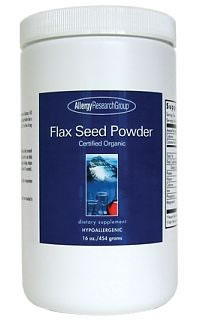 Product of America
Note: This product is no more available. Please look for similar product in this site.
Flax Seed Powder is high in both soluble and insoluble fiber. It is one of nature's richest sources of lignans and is a source of omega-3 essential fatty acids. Flax Seed Powder has a delightfully nutty taste and is a safe, organic alternative to psyllium and other fiber supplements.
Suggested Use: As a dietary supplement, put 1 to 2 level tablespoons into a large glass of water or juice. Stir well and drink immediately. Follow with an additional glass of water. Do not swallow in dry form. Flax Seed Powder is safe to use daily and can be added to blender drinks and baked goods. Substitute for bran, wheat germ and eggs in baking recipes (1 tablespoon of Flax Seed Powder and 3 tablespoons of water equals one egg; mix and let stand for 30 seconds before using in a recipe). Refrigerate after opening
Product Cautions: DO NOT SWALLOW IN DRY FORM. ALWAYS TAKE WITH PLENTY OF LIQUID. REFRIGERATE AFTER OPENING

Serving Size 1 tablespoon (approx. 9 grams)
Servings per container 50
Amount per serving:
Total Fat 1g 40

Calories from Fat 10

Total Fat 1 g

Total Carbohydrates 3 g

Dietary Fiber 3 g

Protein 3 g

Niacin 0.7 mg

Calcium 46 mg

Iron 2 mg

Phosphorus 100 mg

Magnesium 58 mg

Zinc 0.9 mg

Copper 0.2 mg

Manganese 5 mg

Flax Seed Powder 9 g

Lignans 43 mg

Omega-3 Fatty Acids 670 mg

Omega-6 Fatty Acids 190 mg

Omega-9 Fatty Acids 210 mg
This nutrient is of the highest quality and purity obtainable, and does not contain preservatives, diluents, or artificial additives.
Variations in product color may occur. Keep in a cool, dry place, tightly capped.