!– TemplateBeginEditable name="doctitle" –>

<!– TemplateEndEditable –> <!– TemplateBeginEditable name="head" –> <!– TemplateEndEditable –>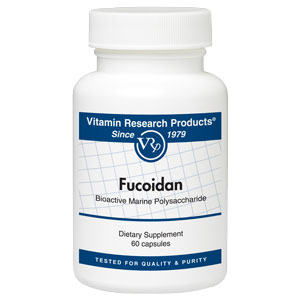 Enhance stem cell activity with this potent marine-derived nutrient. Hundreds of published studies attest to fucoidan's remarkable ability to promote cardiovascular health, fight inflammation and inhibit viral attachment. Now, new research demonstrates that fucoidan actually mobilizes and potentiates stem cells, and enhances their ability to renew and repair aging and damaged tissues. Our Fucoidan is certified organic, produced through an exclusive chemical-free process that yields pharmaceutical purity fucoidan while preserving delicate biological activity.
Highly purified extract
Marine-derived nutrient
Supports cardiovascular health

Has anticoagulant properties
Enhances new blood vessel formation
Protects arterial surfaces

Mobilizes and potentiates stem cells
Inhibits viral attachment and invasion
Enhances NK cell activity
Recommended Dosage:
1 capsule daily
Supplement Facts

Serving Size: 1 Capsule

Amount Per Serving

%Daily Value

Iodine (from kelp and fucoidan)

300 mcg

200%

Fucoidan (from Fucus versiculosus)

75 mg

*

N-Acetylglucosamine (from crab)


75 mg

*

Larch Arbinogalactans

75 mg

*

Kelp (Laminaria digitata)

75 mg

*

* Daily Value not established

Other Ingredients: Hydroxypropylmethylcellulose (vegetarian capsule), magnesium stearate and silicon dioxide.

Contains no added sugar, starch, salt, wheat, gluten, corn, dairy products, coloring or flavoring.

Keep container tightly closed in a cool, dry and dark place. Keep out of reach of children.
Related articles:
http://www.vrp.com/immune-system/fucoidan
http://www.nutrimaxorganic.com/fucoidan/fucoidan_apoptosis.html