!– TemplateBeginEditable name="doctitle" –>

<!– TemplateEndEditable –> <!– TemplateBeginEditable name="head" –> <!– TemplateEndEditable –>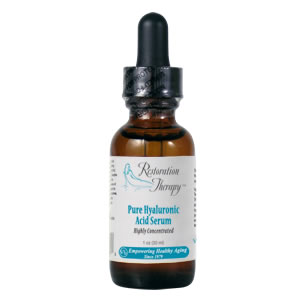 Currently out of stock. Call to reserve.
Restoration Therapy™ Pure Hyaluronic Acid (HA) will nourish, rejuvenate and restore your skin's youthful glow. HA is the body's own super moisturizer, capable of holding up to 1000 times its own weight in water. In the skin, HA's hydrating properties provide elasticity to help prevent wrinkles. Young skin is smooth and elastic and contains a large amount of HA that helps the skin look healthy. As we grow older, the ability of the skin to produce HA decreases and the amount of functional HA begins to fall. Since HA helps to bind water, the ability of the skin to retain water also declines with age. As a result, the skin becomes drier, thinner, and less able to restore itself. The loss of skin fullness also means that the skin becomes looser. This leads to wrinkling and the older appearance of the skin. Clinically, this can be referred to as the "plum to prune, grape to raisin phenomenon."
Topical HA can help by increasing endogenous HA in the dermis and by attracting a water layer on top of the skin surface to protect against water loss. Bio-identical HA, topically applied, can buffer the decreased production of HA that occurs with age. Topical HA can serve as a hydrating agent, rejuvenating skin and improving the tone and appearance by enhancing the skin's ability to retain moisture. Applying a special HA serum that has a light, non-oily texture, can soothe skin, smooth fine lines and reduce the appearance of wrinkles. Pure HA is made with 100% pure, non-animal based, bio-identical hyaluronic acid.
Recommended Dosage: After cleansing in the morning and/or evening, massage 1 or 2 drops onto the face, neck and back of hands. For best results use twice daily. For optimum moisture retention use when skin is hydrated.
Product Cautions: For external use only.
Ingredients:
De-ionized water, sodium hyaluronate (hyaluronic acid).
Paraben Free.