!– TemplateBeginEditable name="doctitle" –>

<!– TemplateEndEditable –> <!– TemplateBeginEditable name="head" –> <!– TemplateEndEditable –>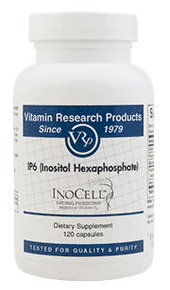 Product of America
InoCell™ is a patented #5,082,833 blend of IP6, and Inositol (derived from rice) shown to reduce cell proliferation and stop angiogenesis.* IP6 is a powerful antioxidant, but when administered in the diet, IP6 binds with proteins, forming insoluble complexes less readily metabolized and absorbed compared to when it is taken alone.
IP6's role in prostate, colon, breast, lung, and liver health may be enhanced when combined with inositol.* These two nutrients also play a part in heart health through their ability to influence platelet aggregation.*
Recommended Dosage: 2 capsules 2 times daily
Product Cautions: None
Supplement Facts
Serving Size: 2 Capsules
Amount Per Serving % Daily Value
Calcium 100 mg 10%
Phosphorus 145 mg 15%
Magnesium 30 mg 8%
InoCell™ Proprietary Blend
(Inositol hexaphosphate and inositol)
1,020 mg *
*Daily Value not established
Other Ingredients:
Microcrystalline cellulose, hydroxypropyl methylcellulose (V cap), magnesium stearate and silicon dioxide.
Contains no added starch, salt, wheat, gluten,
corn, coloring, or dairy products.
Keep container tightly closed in a cool,
dry and dark place. Keep out of reach of children.