!– TemplateBeginEditable name="doctitle" –>

<!– TemplateEndEditable –> <!– TemplateBeginEditable name="head" –> <!– TemplateEndEditable –>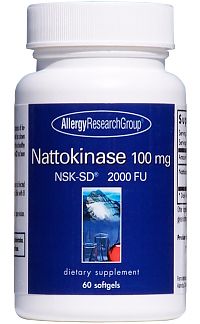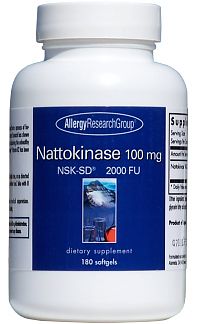 Isolated, purified and encapsulated nattokinase, an enzyme derived from boiled soybeans and Bacillus subtilis natto. Research has shown nattokinase to support healthy coagulation of blood within normal levels and enhance fibrinolytic activity.*
Nattokinase NSK-SD® - We tested recently introduced products and few meet the standards of Dr. Sumi, the discoverer of nattokinase, and Dr. Holsworth, the leading U.S. researcher of nattokinase. We offer only the patented NSK-SD® formulation with no Vitamin K2, the only form that has been tested for safety. Each batch is tested to ensure potency.
NSK-SD® is a trademark of Japan BioScience Laboratory.
Suggested use: As a dietary supplement, 1 softgel two times daily initial dose, or as directed by a healthcare practitioner. May be taken with or without food. Take with 8-10 ounces of water. If taken with anticoagulant drugs, use under medical supervision. Contraindicated in any condition associated with bleeding.
60 and 180 softgels
| | |
| --- | --- |
| Serving Size | 1 softgel |
| Servings per container | 60 |
| Amount per serving: |   |
| Nattokinase NSK-SD® (2000 FU) | 100 mg |