!– TemplateBeginEditable name="doctitle" –>

<!– TemplateEndEditable –> <!– TemplateBeginEditable name="head" –> <!– TemplateEndEditable –>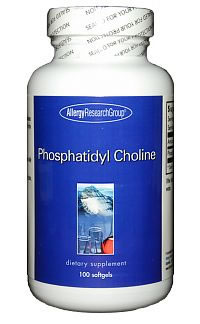 Product of America
Phosphatidylcholine, a primary component of lecithin, is converted in the brain into the neurotransmitter acetylcholine. Researchers have found acetylcholine to be a primary carrier of memory.* Brain acetylcholine levels are thought to be crucial for maintaining memory function as we age.* Memory is stored in neurons in the brain, and sufficient acetylcholine supports effective transport of memory across neurons, resulting in protection and enhancement of memory function.*
Suggested Use: As a dietary supplement,1 to 4 softgels two to three times daily with meals, or as directed by a healthcare practitioner.
Product Cautions: None
Serving Size 1 softgel
Servings per container 100
Amount per serving:
Phosphatidylcholine 385 mg
Other ingredients: Other phospholipids, Miglyol 812®, glycerin.
This nutrient is of the highest quality and purity obtainable, and does not contain preservatives, diluents, or artificial additives.
Keep in a cool, dry place, tightly capped.