!– TemplateBeginEditable name="doctitle" –>

<!– TemplateEndEditable –> <!– TemplateBeginEditable name="head" –> <!– TemplateEndEditable –>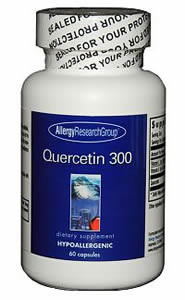 This formulation incorporates the highest potency quercetin available, derived from a non-citrus, hypoallergenic plant source, and stabilized with additional antioxidants so as not to auto-oxidize (degrade spontaneously). Quercetin has been shown to support the integrity of mast cells, which play a key role in controlling the release of histamine.* In addition, Quercetin has been shown to reduce the production of prostaglandins and leukotrines.*
Suggested Use: As a dietary supplement, 1 or 2 capsules one to three times daily with meals, or as directed by a health practitioner.
Product Cautions: None
Serving Size 2 capsules
Servings per container 30
Amount per serving:
Vitamin C (as Calcium Ascorbate) 150 mg
Vitamin E (as DL-alpha-Tocopheryl Acetate) 140 IU
Quercetin 600 mg
Other ingredients: Hydroxypropyl methylcellulose, cellulose, L-leucine.
These nutrients are of the highest quality and purity obtainable, free of all common allergens (antigens), and do not contain preservatives, diluents, or artificial additives.
Keep in a cool, dry place, tightly capped.