!– TemplateBeginEditable name="doctitle" –>

<!– TemplateEndEditable –> <!– TemplateBeginEditable name="head" –> <!– TemplateEndEditable –>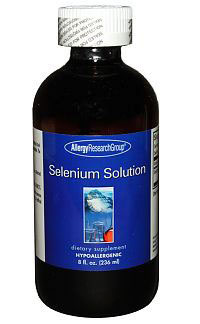 Product of America
Selenium Solution is specially formulated for individuals who are hypersensitive. It provides sodium selenite, which is a very pure selenium source. Sodium selenite is well absorbed, and its sodium content is nutritionally insignificant.
Selenium Solution is prepared by dissolving sodium selenite into triple distilled water, then sterilizing the solution by the use of heat rather than by the addition of chemical preservatives. Selenium Solution is therefore best stored refrigerated after the bottle has been opened. Individuals who are highly chemically sensitive may want to use Selenium Solution at an appropriate level of dilution to gradually build up their tolerance. This liquid form of selenium makes it easier to regulate the dose according to the needs of the individual, potentially improving tolerance.*
Suggested use: As a dietary supplement, 1/2 teaspoon one to three times daily, or as directed by a healthcare practitioner.
Product Cautions: Do not exceed 400 micrograms of selenium per day from all sources.

Serving Size 1/2 teaspoon (2.5 ml)
Servings per container 94
Amount per serving: Selenium (as Sodium Selenite) 100 mcg

Other ingredients: Distilled water.
Caution: Don't take together with vitamin C, zinc, copper, and other minerals as they will neutralize the Selenium!
Refrigerate after opening. Do not freeze
1. Studies show Selenium prevents cancer and thyroid disease...
2. Selenium helps remove Mercury from the body...
3. Naturally-formed Selenium vs Inudstrial Byproduct: Spinning the Truth About the Halted National Cancer Institute Prostate Cancer Study...